If You are trying to find things to do, these 45 Fun Things To Do At Home When You Are Bored will help you find ways to fill your time.
This Post contains affiliate links
As I am writing this we are in the middle of a pandemic. Told to stay inside to avoid a widespread and currently trying to keep myself and family sane. I came up with 45 Fun Things To Do At Home When You Are Bored or in this case self isolating. This lists can be used beyond being forced inside.
45 Fun Things To Do At Home When You Are Bored
Read a book
Learn something new
Deep clean your house
Throw out expired products
Play a video game
Go camping…indoors!
Write in your journal
Plan the rest of your week
Start a new workout program
Meal Prep for the week
Bake your favorite dessert
Cook your favorite food
Watch Youtube Videos
Start a blog
Throw your own dance party
Sing to your favorite songs
Clean out your closet
Call or Facetime a friend
Have an indoor picnic
Go for a walk
Do your hair and makeup
Engage with friends on Instagram
Make a Tik Tok video
Read and comment through your favorite blogs
Take pictures of things around
Color or draw
Put on a fashion show
Play a board game
Build a fort
Finally put your laundry away
Take a nap
Create a vision board
Map out plan of attack for your goals
Finish that course
Go through your phone and delete old contacts and photos
Make a gratitude list
Write someone a letter
Have a mini at home self care session
Shop online
Listen to a podcast
Binge watch a new series
Watch all the Marvel movies
Take an online quiz
Organize your planner for the upcoming months
Just Chill
45 Fun Things To Do At Home When You Are Bored
1.Read a book
There is something special about sitting down with a cup of coffee and a good book. There are tons of books to choose from but here are a few of my faves to give you some ideas.
The Harry Potter Series
The Twilight Saga
The Hunger Games
The Nightingale
You Are A Bada**
The Happiness Project
These are just to name a few but admittedly I haven't read much. I plan on changing that since we will be stuck inside for awhile.
The thought of having a library full of books is amazing, but we live in California and don't have the room for it. So having an Amazon Kindle is the next best thing. You get a library of books right at your finger tips and can be taken with you anywhere.
2. Learn Something New
With all the extra time we have now is the perfect time to learn something new. Whether it's to learn how to cook, bake, or knit there are endless resources to help you. Youtube and TikTok have actually been great resources for me.
3. Deep Clean Your House
I know, I know cleaning isn't usually my first thought when I'm home bored. In fact it's actually more boring to me than not doing anything. But sometimes we have put it off for too long that it is necessary. Blasting my favorite Mexican or Disney tunes helps me get in the mood to clean and it helps me get done sooner.
This includes:
Doing laundry and putting it away
Organize your closet and dresser
Scrub your shower and toilet
Organize your medicine cabinet
Change your sheets and pillow cases
Vacuum your carpet and mop your floors
Clean out your fridge
Organize your pantry
Wash your makeup brushes
Even just doing a few of these a couple times a week will help ease the load of doing everything at once. A clean space helps better with concentration and a de-cluttered space helps de-clutter the mind.
4. Throw out Expired products
After you organize your pantry, fridge or makeup cabinet it's good practice to throw out any expired food or products. I tend to go through my fridge every other day to make sure nothing has gone bad. I am also very particular about the way my fridge is organized so doing this every other day helps with that.
5. Play a Video Game
I'm not super big into video games, but I do enjoy playing Mario Kart with my wife on days we don't have anything to do, I must say I am pretty good at it. If you have a Nintendo Switch you can get the new Animal Crossing which has kept my wife busy for hours as well, I don't really get it but she loves it.
6. Go Camping…indoors!
The boys have been asking to go camping and roast marshmallows. We weren't really comfortable going out just yet so we decided to bring camping to us. We bought a tent big enough for the boys to share and sleep in and I created a "campfire" with some crafts. Then for dessert I made some mini S'mores pies since we didn't have a real campfire.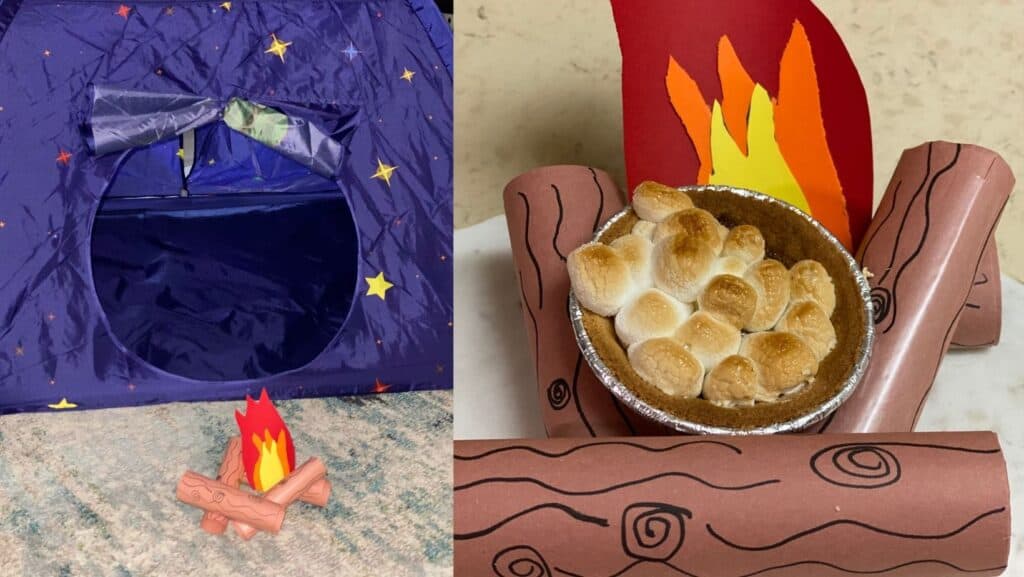 We played games and hung out and when it was time for bed we all camped out in the living room. The boys slept in their tent and K and I slept on our couch. We turned on our stargazer and played campfire sounds on Youtube to really set the scene. The boys loved it and we plan on doing it again really soon.
7. Write in your journal
I have a 101 journals in my room. What can I say I love a pretty covers and clean pages. The idea of having a fresh new start to create and write whatever you want is something so satisfying. There are a tone of journals out there nut you can get any journal that fits your needs.
8. Plan The Rest of your week
Sometimes it takes just a few moments of quiet time to be able to plan out everything you want for your day. Set up your workout schedule, meal plan, kids schedule, whatever it is that tends to keep you busy. Writing it out on paper will help take it out of your mind.
9. Start a New workout program
Whether it's being bored or stuck inside due to quarantine there is nothing like starting a new workout plan. I hate starting a new program but I love it when I finally get consistent with it. No matter what it is starting a new program brings a sense of purpose and determination. Youtube has the best free videos to help you get started.
10. Meal Prep for the week
Having the extra time to meal prep can save you tons of time during the week. If you have any trouble figuring out how to meal prep check out my post on how to meal prep for beginners.
11. Bake your favorite dessert
Since we've been quarantined I have made brownies, chocolate chip cookies and rosemary foccacia bread. Baking is very therapeutic for me so it's been helping me get through my anxiety. But even when I'm just bored it's just a fun way to pass the time. Not to mention you get to eat something amazing afterwards.
12. Cook your favorite food
Same goes for the food you enjoy. Learning to make the foods you enjoy is really satisfying. Especially finding out how easy and budget friendly it can be.
13. Watch youtube videos
This may be a bit dramatic but watching youtube videos changed my life. I learned about iifym through it and it completely changed the way I look at food and losing weight. ASMR videos are also great and relaxing.
14. Start a blog
Starting a blog has been one of the best things I ever did. I love sharing about my experiences and helping other stay at home moms. If you are bored or stuck in quarantine this is the perfect time to start. If you need some guidance or information on how to start check this post out.
15. Throw your own dance party
16. Sing your favorite songs
17. Clean out your closet
I go through spurts of wanting to redo my entire closet and reorganize my dresser. This is a good way to get rid of old clothes and make room for more ;).
18. Call or face time a friend or family
Since we have to practice social distancing virtual dinner dates with family have been the key to keeping us together. This is a great way to stay connected whether you are bored or forced to stay inside.
19. Have an indoor picnic
My kids love when we set up a picnic in the middle of the room and watch a fun movie. If you have a balcony have a picnic out there too, a change of scenery can be good for everyone.
20. Go for a walk
Some fresh air is good for the soul.
45 Fun Things To Do At Home When You Are Bored
21. Do your hair and makeup
Doing my hair and putting a face on always makes me feel so much better and kills about 45 minutes depending if I want to practice anything.
22. Engage with friends on Instagram
Do you ever find yourself just scrolling mindlessly on Instagram? How about engaging on peoples content and sending a nice comment or message. I know it always makes me happy when friends engage. You never know what kind of friendships will come of it.
23. Make a TikTok video
I know I know but my goodness is tiktok addicting. This app is an amazing way to showcase your creativity. Even if you don't make a video enjoying this app is just as time consuming.
24. Read and comment through your favorite blogs
We read them on the daily why not leave some love. While you'are at it, let me know how helpful this post has been. 🙂
25. Take picture of things around you
26. Color or draw
There are some fun coloring books for adults to help you busy and even some to help ease anxiety.
27. Put on a fashion show
Put on some of your fancy clothes and strut your stuff!
28. Play a board game
There is nothing like playing a fun board game to pass the time if you have friends or family over.
29. Build a fort
The other day I built a fort for the kids and they loved it! We watched Disney movies and had dinner in it and they thought it was the coolest thing ever. You can really set it up however you like but I just googled " how to build a fort" and found the easiest way for me.
30. Finally put your laundry away
I hate doing it too but if I have nothing else to do might as well get it over with.
31. Take a nap
This has been my go to thing to do lately during this whole thing. Once the kids go down for a nap so do I.
32. Create a vision board
It's never to late to set up goals for yourself for the year and future. I love vision boards because it allows me to see and think about the things I want to accomplish. I believe in manifestation and it helps give me that extra pep in my step to go after my dreams.
33. Map out a plan of attack for your goals
Now that you've created your vision board you can't just wish for things to happen…you have to work for them! Write out how you plan to achieve these goals. Set out actionable steps that you know you can achieve in short times. Don't set yourself up for failure. Do them one step at a time! You've got this!
34. Finish that course
You know that course you signed up for with every intention to start and finish, but you rather scroll on Tik Tok for hours? Yes, that course! Get to it!
35. Go through your phone and delete old contacts and photos
36. Make a gratitude list
No more than ever is a good time to remember what we are grateful for, especially when things seem so bad. Writing down a gratitude list allows us to embrace the good we still have in our life.
37. Write someone a letter
I love a nice hand written letter, but maybe right now send someone a nice email instead. Just because you know germs!
38. Have a mini at home self care session
Self care is more important than ever. Taking care of ourselves during this time allows us to keep our physical and mental health happy. My idea of self care is a nice spa day. Face masks, a nice hot bubble bath, lotion that smells amazing and music that helps make me feel at ease. I try and fill my home with relaxing sounds and scents like lavender. Of course Self care comes in many shapes and sizes but this is what has worked for me when I just need some time to myself.
39. Shop online
This can be dangerous but if you can afford it…go for it!
40. Listen to a podcast
I love listening to podcasts especially while working out. There are a ton out there from inspirational to educational so find whatever you need.
41. Binge watch a new series
Sometimes when we are bored we just turn on Parks and Recreation and watch as many episodes as we can. I think we have seen it all the way through about 3 times. As you know Netflix is a great place to binge watch all the good shows. Here are just a few shows on Netflix that you need to watch:
The Circle
Parks and Rec
The Office
New Girl
Schitt's Creek
42. Watch all the Marvel movies
So I totally jumped on the bandwagon when End Game came out in 2019! I LOVE watching the Marvel movies and my wife and I are watching it them chronological order now that we are in quarantine. If you want to watch in order as well check out this list:
Captain America: The First Avenger
Captain Marvel
Iron Man
Iron Man 2
Thor
The Incredible Hulk
Avengers
Iron Man 3
Thor: The dark World
Captain America: The Winter Soldier
Guardians of The Galaxy
Guardians of the Galaxy Vol. 2
Avengers: Age of Ultron
Ant-Man
Captain America: Civil War
Black Panther
Spiderman: Homecoming
Ant-Man and the Wasp
Doctor Strange
Thor: Ragnarok
Avengers: Infinity War
Avengers: End Game
There are a few movies coming out this year and in the upcoming years that also fit into this so I will update it as they come out.
43. Take an online quiz
Buzzfeed has hilarious quizzes you can take to find out your personality type, what kind of Bachelor you'd marry and so much more! It's a super fun way to pass the time.
44. Organize your planner for the upcoming months
Just like journals I love a good yearly planner. I love planning out my month as best I can. Depending on what I have going on I like to write it down on my planner and write goals I want to accomplish.
45. Just Chill
Sometimes there is so much pressure to accomplish everything in one day or week. Take it easy! We already work so hard for our next task. Sometimes our body just needs a break.
45 Fun Things To Do At Home When You Are Bored
I really hope these 45 Fun Things To Do At Home When You Are Bored are helpful and you find something to keep you entertained whether you are stuck in quarantine or just bored at home. Once you are ready to head outside again be sure to check out my post on the best things to do in Orange County with Kids!