This post contains affiliate links, which means I receive a small commission, at no extra cost to you, if you make a purchase using this link. Please see my disclosure for more details.
My Kitchen Must Haves From Amazon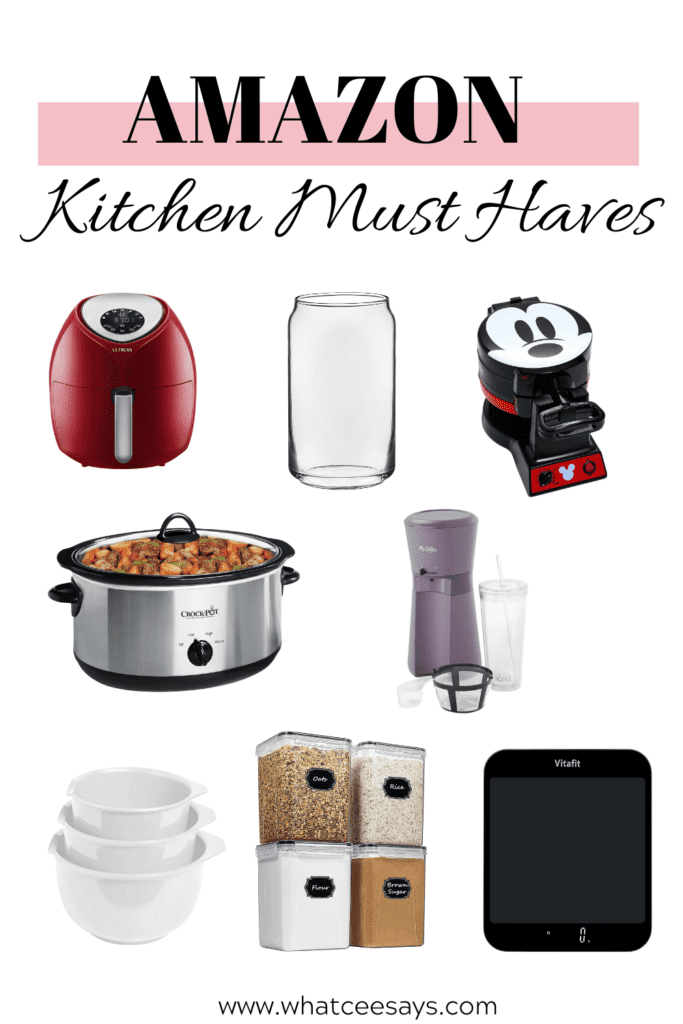 Air Fryer // Mickey Mouse Waffle Maker // Glass can Tumbler // Iced Coffee Maker // Crock Pot // Kitchen Organization // Mixing Bowls // Food Scale
Related: Self Care Gifts For Moms
My Kitchen Must Haves From Amazon
Air Fryer
I am Obsessed with my air fryer, I use it about once a day. It's perfect for heating up leftover fries and making dinner quickly. I also love that using it doesn't heat up my whole house like our oven does.
Mickey Mouse Waffle Maker
This of course is a must in any Disney lovers home! These come out exactly like the famous Mickey Waffles from the Disney Parks so it's the perfect way to bring Disney Magic into your home. Use this mix found on Amazon and it's like you're in the Parks!
Glass Can Tumbler
Let's talk about aesthetically pleasing kitchen essentials. This will make any drink perfect and too pretty to drink.
Iced Coffee maker
I just got this coffee maker and I love it already! As someone who goes to Starbucks daily I am trying to find ways to save money and make my coffee at home. This has made my life easier and saved me some $$.
Crock Pot
Another Kitchen appliance that has made life way easier. This one takes some planning since it requires a few hours to fully cook your meal if you go this route. But I love this because I can just set it in the morning and dinner will be ready with minimal effort.
Kitchen Organization Bins
Okay this is definitely a "TikTok made me do it" scenario. We have a small walk in pantry and it was driving me crazy how unorganized it was. Then I found a few videos of people organizing their home and it was satisfying it inspired me to get my life together and organize my pantry.
Mixing Bowls
This is a no brainer if you spend any amount of time cooking or baking in your kitchen. Get high quality mixing bowls to last you forever.
Food Scale
You don't have to be hitting the gym and counting calories to benefit from a kitchen scale. It's perfect for recipes and baking and helps with figuring out proper serving sizes for the whole family.
My Kitchen Must Haves From Amazon
I hope you enjoyed this round up of my must have Amazon kitchen essentials. These will make cooking a lot easier and enjoyable I promise!
Pin For Later: