"Move it up skip!" I had the pleasure of screening the Jungle Cruise Movie and I can't stop smiling. This movie was filled with action and adventure, hilarious puns and a lot of great storytelling. The Jungle Cruise holds a special place in my family's heart so we were especially excited to see it. But before you let your little ones see it check out my spoiler free review to make sure it is okay for younger kiddos.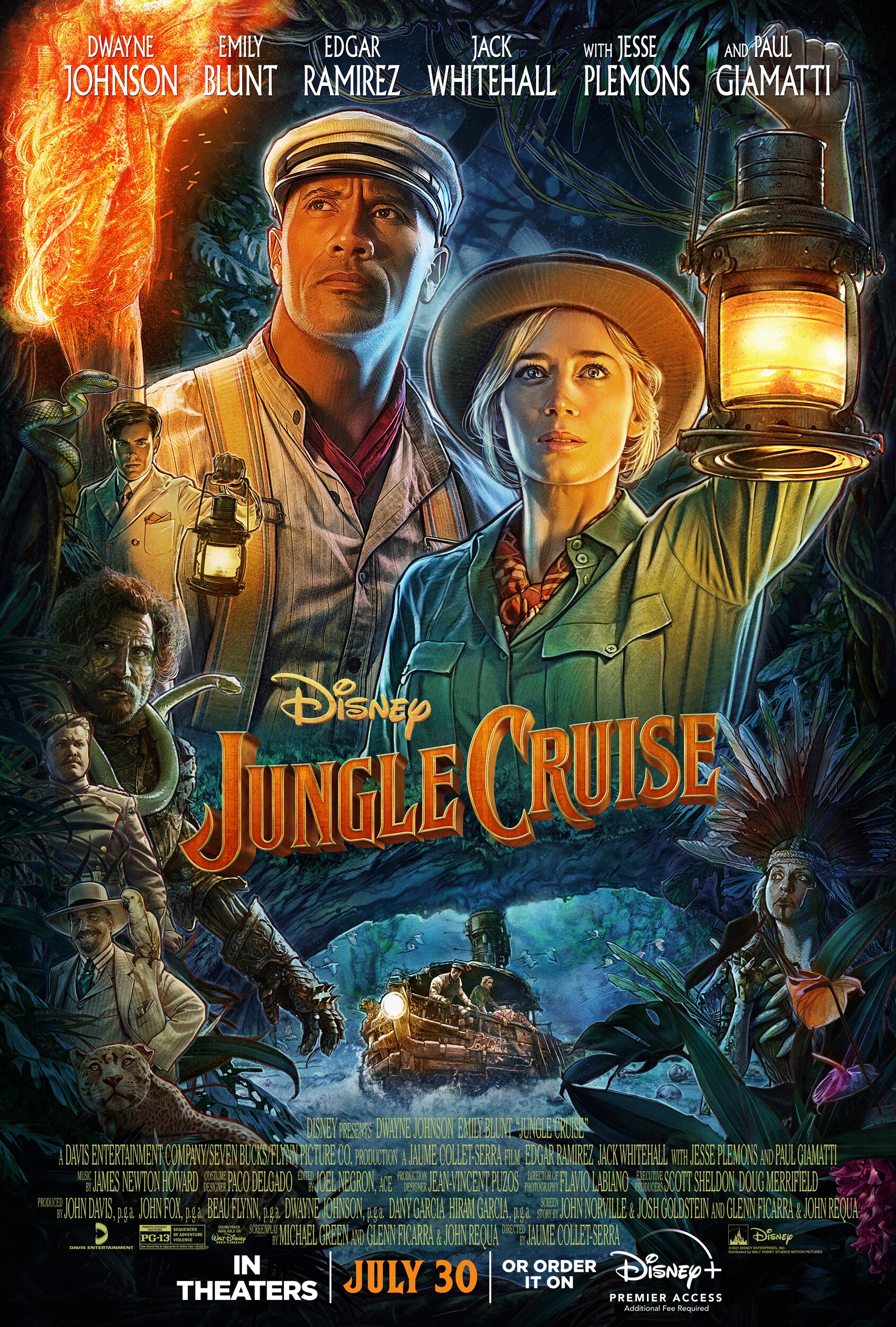 What is Jungle Cruise About?
Synopsis:
Inspired by the famous Disneyland theme park ride, Disney's "Jungle Cruise" is an adventure-filled, rollicking thrill-ride down the Amazon with wisecracking skipper Frank Wolff and intrepid researcher Dr. Lily Houghton. She travels from London, England to the Amazon jungle and enlists Frank's questionable services to guide her downriver on La Quila—his ramshackle-but-charming boat. Lily is determined to uncover an ancient tree with unparalleled healing abilities—possessing the power to change the future of medicine. Thrust on this epic quest together, the unlikely duo encounters innumerable dangers and supernatural forces, all lurking in the deceptive beauty of the lush rainforest. But as the secrets of the lost tree unfold, the stakes reach even higher for Lily and Frank and their fate—and mankind's—hangs in the balance.
Is Jungle Cruise meant for kids?
Jungle Cruise is rated PG-13 for sequences of adventure violence. This movie is perfect for the kids ages 10 and up who love adventure and a bit of suspense. There were a couple of jump scares that could scare smaller kids but not enough to ruin the movie for the older kiddos. Some characters who have unique characteristics and can seem scary for smaller children.
There are a few fight scenes that result in someone falling down a cliff, or getting squashed by something but in a way that is comical and not gory.
I have two little ones who are 3 and 4 and as much as they love the ride at Disneyland and can literally quote the entire spiel, I wouldn't let them watch just yet. I know my kids and I know that jump scares and certain scenes could be scary for them. But this will definitely be a movie we have them watch when they are much older to connect the ride and the movie.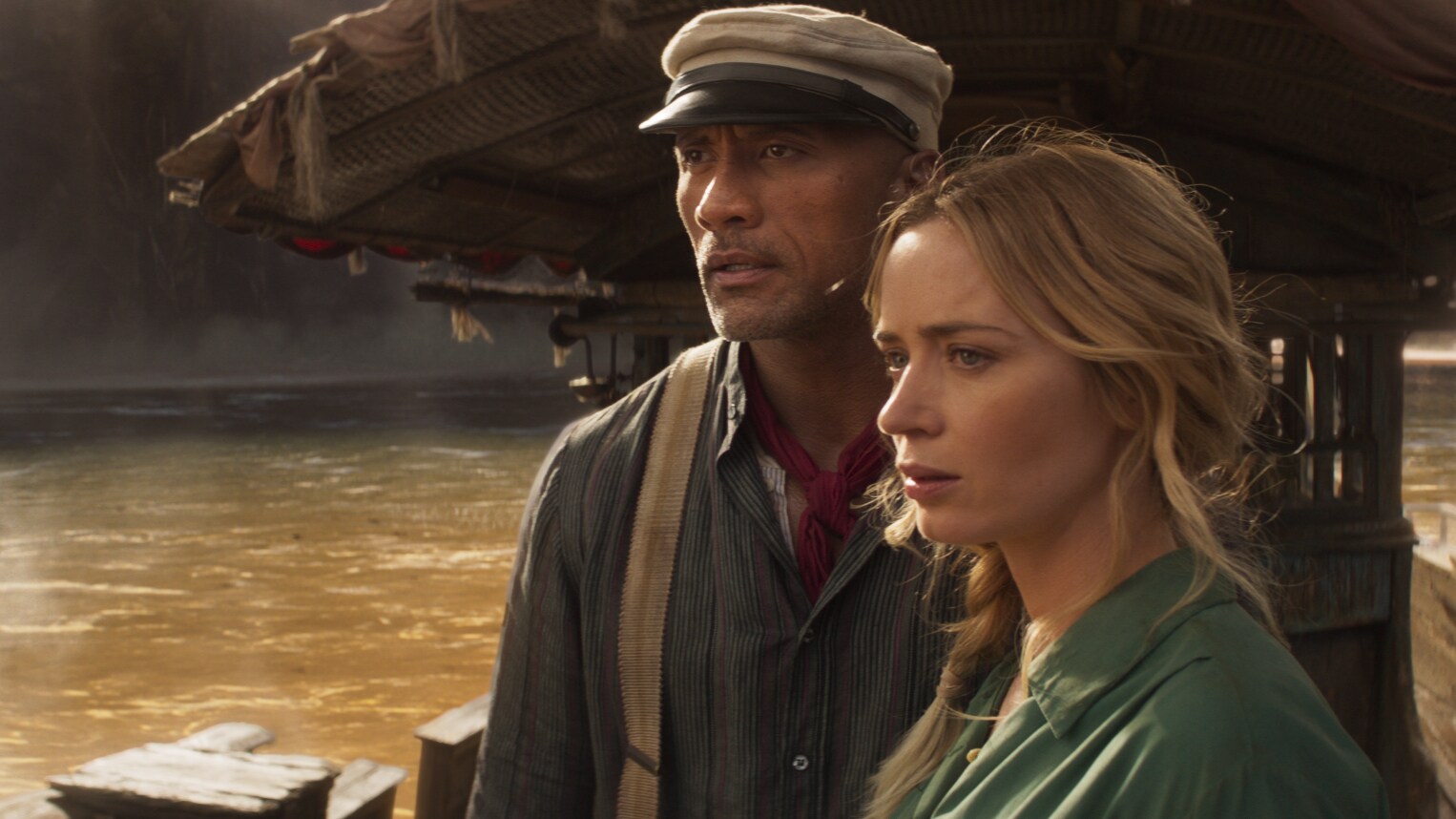 My Thoughts on Jungle Cruise
Overall I thought this movie was incredible! Filled with action and adventure and hilarious jokes and puns. If you are familiar with the attraction it'll leave you feeling like you're right back to Disneyland on one of those special boats ready to go on your own quest. The storyline was well thought out and they did a great job with keeping true to the ride but also making it a new story on its own. There were twists and turns that left you at the edge of your seat ready for more.
Dwayne 'The Rock' Johnson and Emily Blunt have incredible chemistry together! They were both the main characters in their own way and each took turns with the spotlight. The build up of the characters and growth was really special to watch and had you cheering for them both in their own way.
I really enjoyed that they took an already incredible attraction and made it into an incredible movie. It's such a special ride and I'd be lying if I said I wasn't nervous when they made the announcement of a movie. But they exceeded all of my expectations and more with this one.
Is it worth Premiere access?
I've been seeing the question floating around a lot lately and I will say it is absolutely worth purchasing on Disney+ but it is best seen in a theater. With all of the action and attention to detail and beautiful cinematography if you can watch it on the big screen please do. But if you prefer to stay home and create your own viewing party it is absolutely worth the money!
Go on the adventure of a lifetime with the Jungle Cruise movie on July 30th in theaters and on Disney+ with premiere access.