Free Guy Spoiler Free Parent Review
I had the chance to screen 20th Century Studios Free Guy at the El Capitan theater and it was such a fun movie! I laughed the whole time and really enjoyed myself. Read my Parent review before taking your kiddos tho to find out the best age range.
related: Disney's Jungle Cruise Review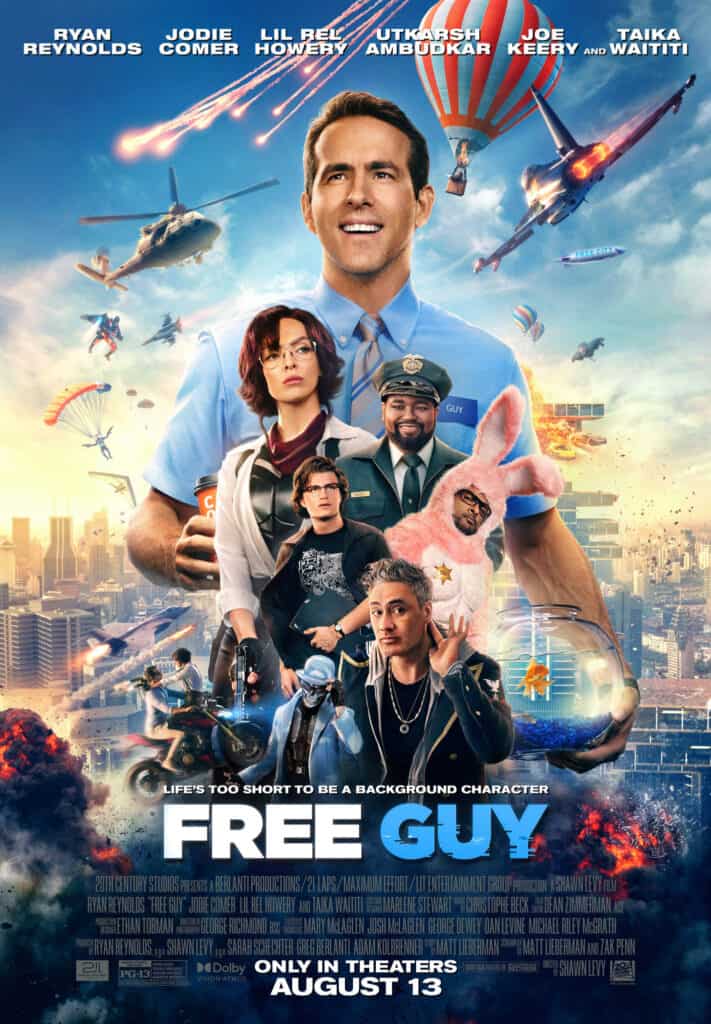 What Is Free Guy about?
Synopsis:
In "Free Guy," a bank teller who discovers he is actually a background player in an open-world video game, decides to become the hero of his own story…one he rewrites himself. Now in a world where there are no limits, he is determined to be the guy who saves his world his way…before it is too late. Starring Ryan Reynolds, Jodie Comer, Lil Rel Howery, Joe Keery, Utkarsh Ambudkar and Taika Waititi, "Free Guy" is directed by Shawn Levy from a screenplay by Matt Lieberman and Zak Penn and a story by Lieberman. The film is produced by Ryan Reynolds, p.g.a., Shawn Levy, p.g.a., Sarah Schechter, Greg Berlanti and Adam Kolbrenner with Mary McLaglen, Josh McLaglen, George Dewey, Dan Levine and Michael Riley McGrath serving as executive producers.
Is Free Guy Meant For kids?
So you may be wondering if it's a video game type of movie my kids can see it right? Well not exactly, I write my reviews for parents with young children, think ages 2-5. So as much fun as the movie was and as visually stunning the video game aspect was I wouldn't take my young kids to watch it. It just isn't for them. But that's not to say kiddos who are older wouldn't enjoy it.
Free Guy is rate PG-13 for strong fantasy violence throughout, language and crude/suggestive references. But if you have a kid who is 10 and older and you don't mind a cuss word here or there they will love this movie! Especially if they love all things video games.
My Thoughts On Free Guy
Overall Free Guy was a hilarious movie! Ryan Reynolds was amazing in it. The cinematography in this movie was absolutely incredible it'll make you feel like you are in a video game of your own. I'm going to be honest, I am not a big gamer but you don't have to be to enjoy this movie. It had wit, sarcasm, humor and a bit of romance. So it really has everything for everyone!
It did take a moment to take off and get to the main plot. But, once it got there you were on a rollercoaster of fantasy action and sarcasm. Overall I really enjoyed the movie and thought it was hilarious. It was genuinely such a fun movie I found myself smiling and cheering internally throughout the whole thing.
Although the movie was fun and full of comedy I couldn't help but take away an important message. We are not meant to be the background characters in life! we have the power to become the main character of our world and live that to the fullest. Nothing and no one can makes us feel less then. It's up to us to embrace who and were we are in life!
This movie is the movie of the summer! You can catch Free Guy in Theaters on August 13.