What Cee Says was hosted by Getaway House for my honest review. All opinions are my own.
Have you ever wanted a chance to getaway, disconnect from the world and reconnect with your family? Maybe you are in desperate need of some R&R from your busy schedule? Are you near the Los Angeles area and looking for a quick drive to peace and quiet? Look no further, keep reading to learn about my experience while staying at Getaway House Los Angeles with my family.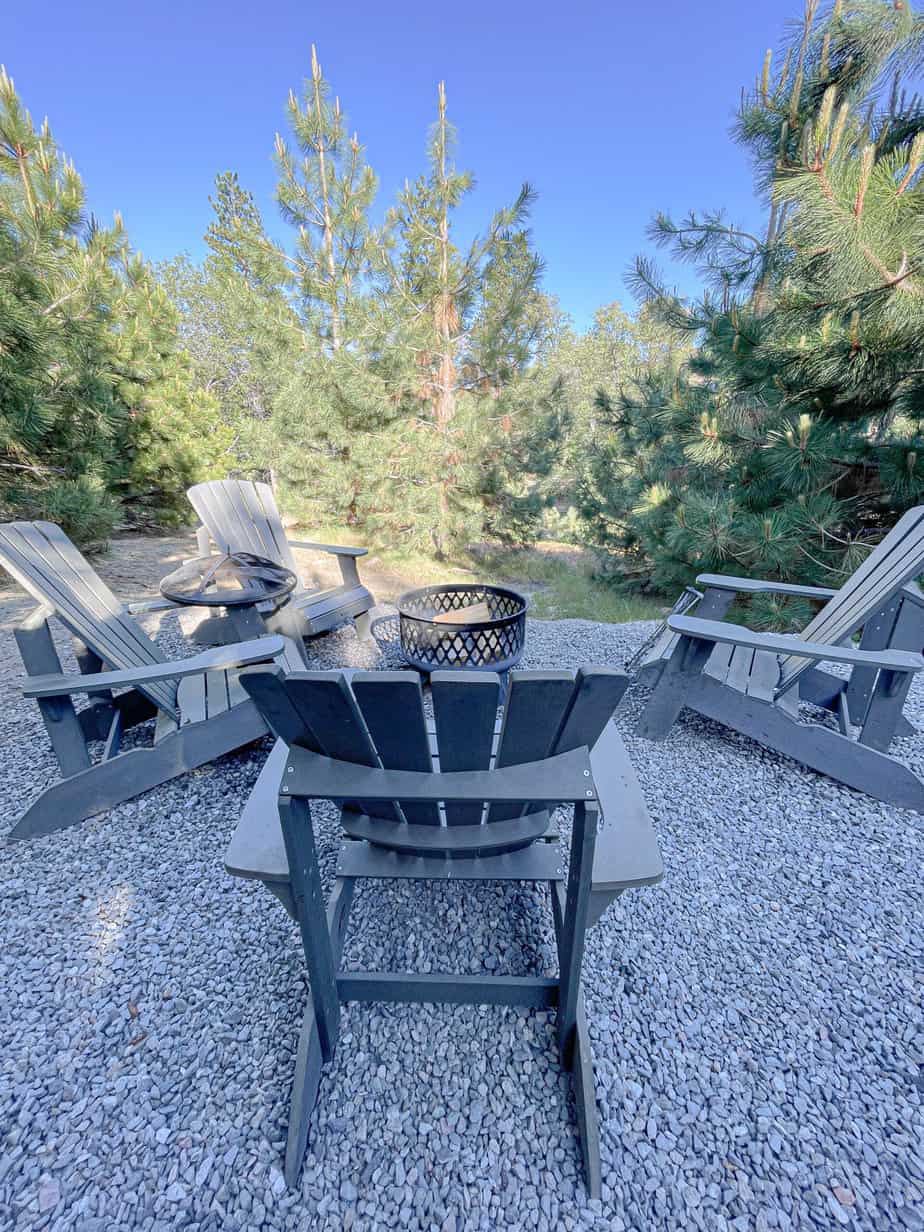 What is Getaway House?
Getaway House was designed with free time in mind. The goal of Getaway House to disconnect from the hustle and bustle of the real world and take the time off to do nothing and just be. It encourages everyone to take a moment to disconnect and reconnect with yourself, family and nature to remind us of what truly matters.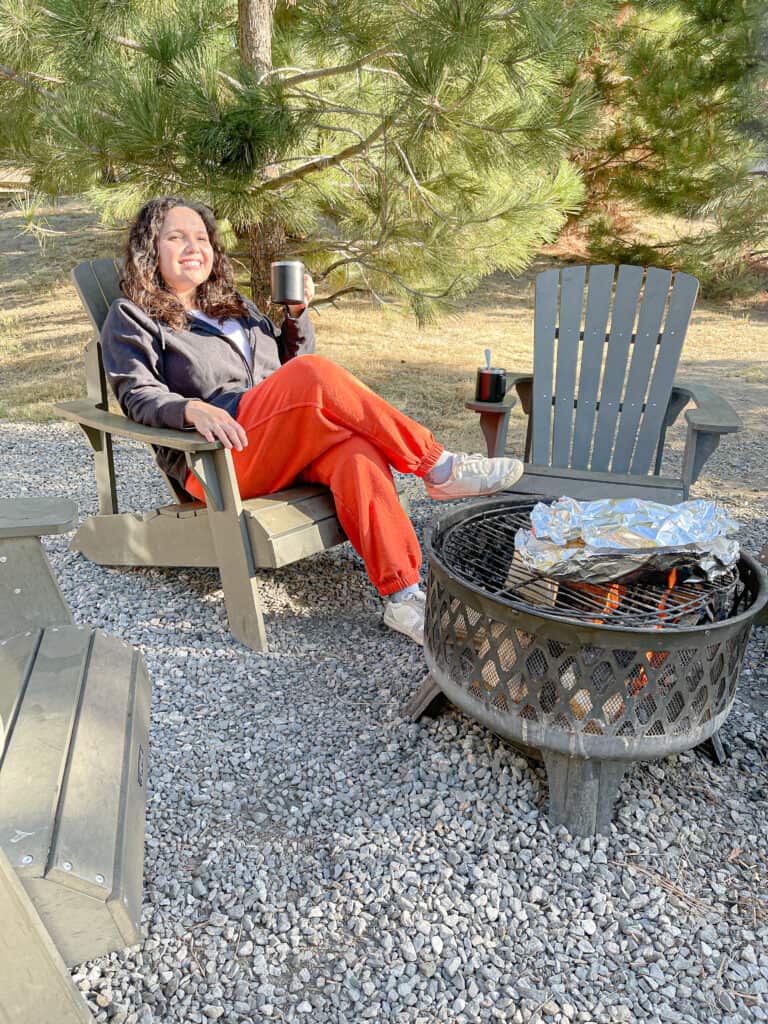 With over 15 locations and counting Getaway House is available all across the United States offering the joys of being out in nature with just a couple hours away from a major city. That way you can get to logging off and enjoying the fresh air in no time.
Getaway House Locations:
West Coast
Los Angeles, CA – Where we stayed!
Portland, OR
Seattle, WA – on my wishlist
SouthWest
Austin, TX
San Antonio, TX
Dallas, TX
Houston, TX
Midwest
Chicago, IL
Kansas City, MO
Minneapolis, MN
Cleveland, OH
SouthEast
Atlanta, GA
Charlotte, NC
Raleigh, NC
Nashville, TN
New Orleans, LA
NorthEast
Boston, MA
New York, NY
Hartford, CT
Washington, DC
Pittsburg, PA
If you need more information on locations be sure to check out the website here to get all the details for your preferred city.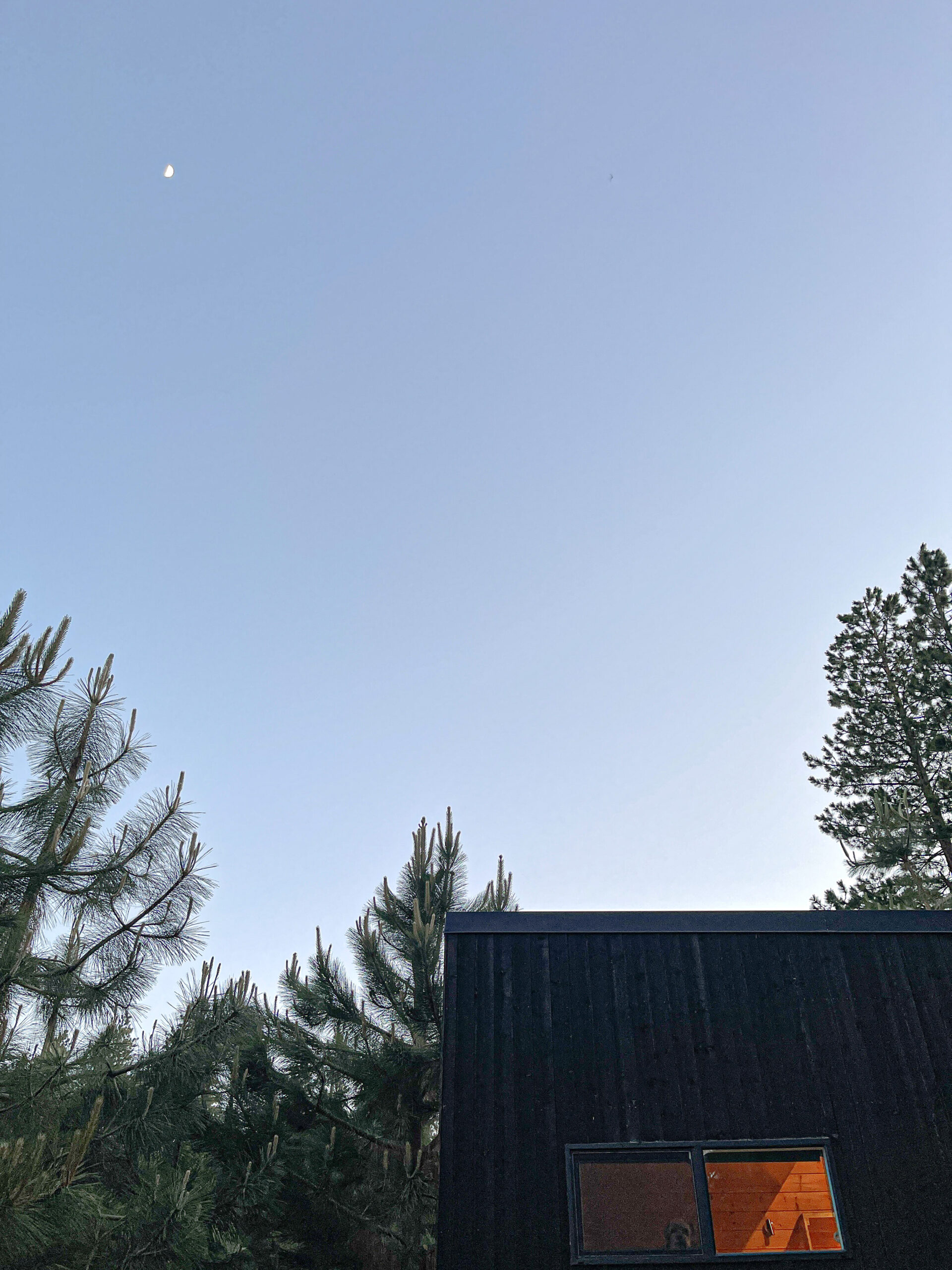 What To Expect?
First and foremost I want to be honest and say I am not really the outdoorsy type. I enjoy a nice paved hike or a fun bonfire but that's about my limit. When I heard of Getaway House I was intrigued. The concept of being outdoors, enjoying nature while also having the comfort of a small cabin? Now that I can do.
We arrived shortly after our check in time, (3pm is check in btw.) For safety purposes you received your outpost name and specific to you door code 30 minutes upon your arrival. There is a designated parking spot near your post and depending on the location a few steps to take down to your door.
After we unloaded the car and brought everything inside, mind you it's a small space, I believe specifically designed to provide exactly what you need while also pushing you to be outdoors. We were ready to enjoy the quietness of the forest and truly disconnect from the world.
Use Code WHATCEESAYS for $25 off Book at Getaway House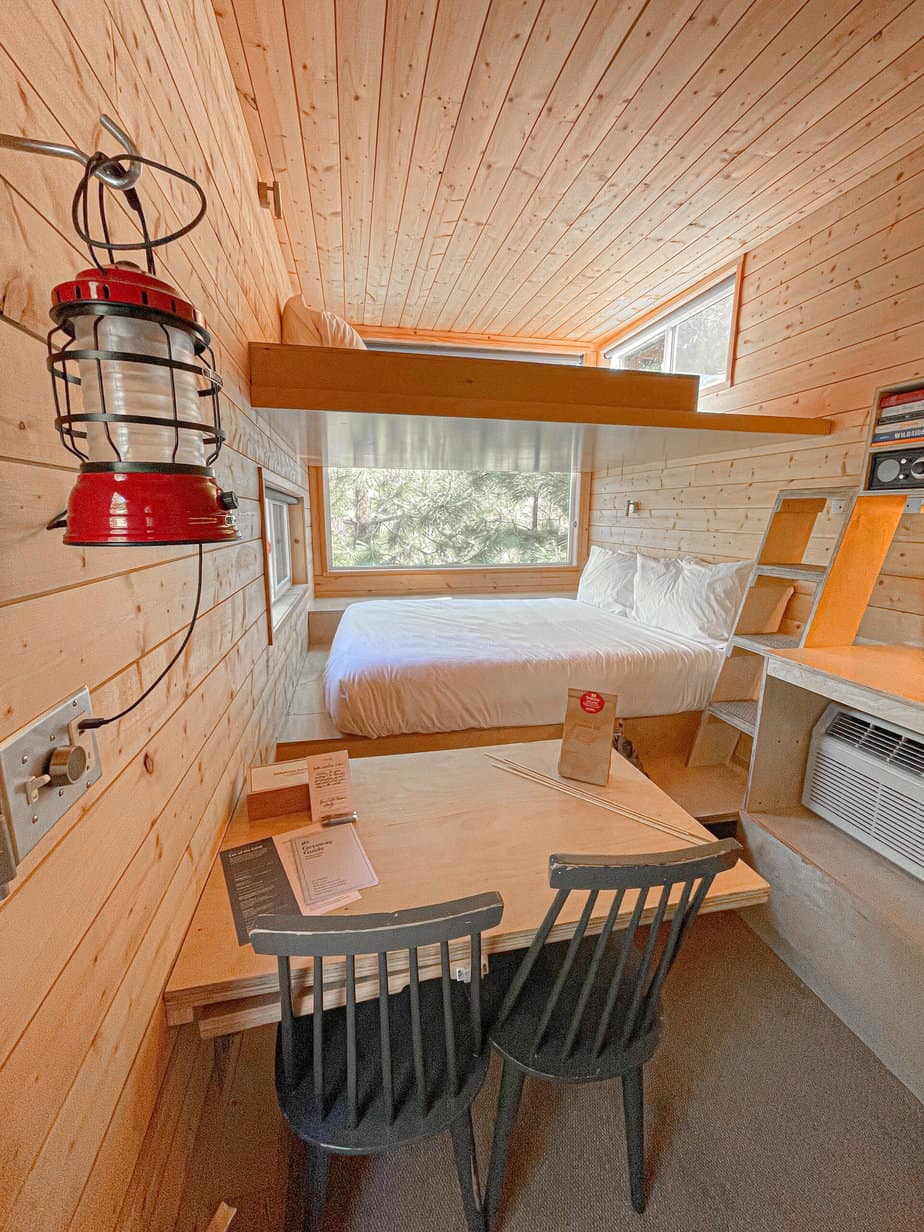 What's in the cabin?
First impressions was how are 4 people and two dogs going to fit in this small space for 2 days? ya'll we made it work and it was amazing. Equipped with 2 beds bunk bed style, a small table, mini fridge, stovetop, sink, bathroom & shower, we had everything we needed.
the cabin also came equipped with basic kitchen tools, bowls, cups, kettle, first aid kit, pots and pans, mugs, kitchen towels, toilet paper, bath towels, face towels, body wash, shampoo & conditioner. Literally everything you need to be comfortable.
If you are looking for some entertainment the cabin also comes with a few books to enjoy, a radio and playing cards. They also offer a S'mores kit at a small fee and provisions like tea and hot chocolate for purchase as well.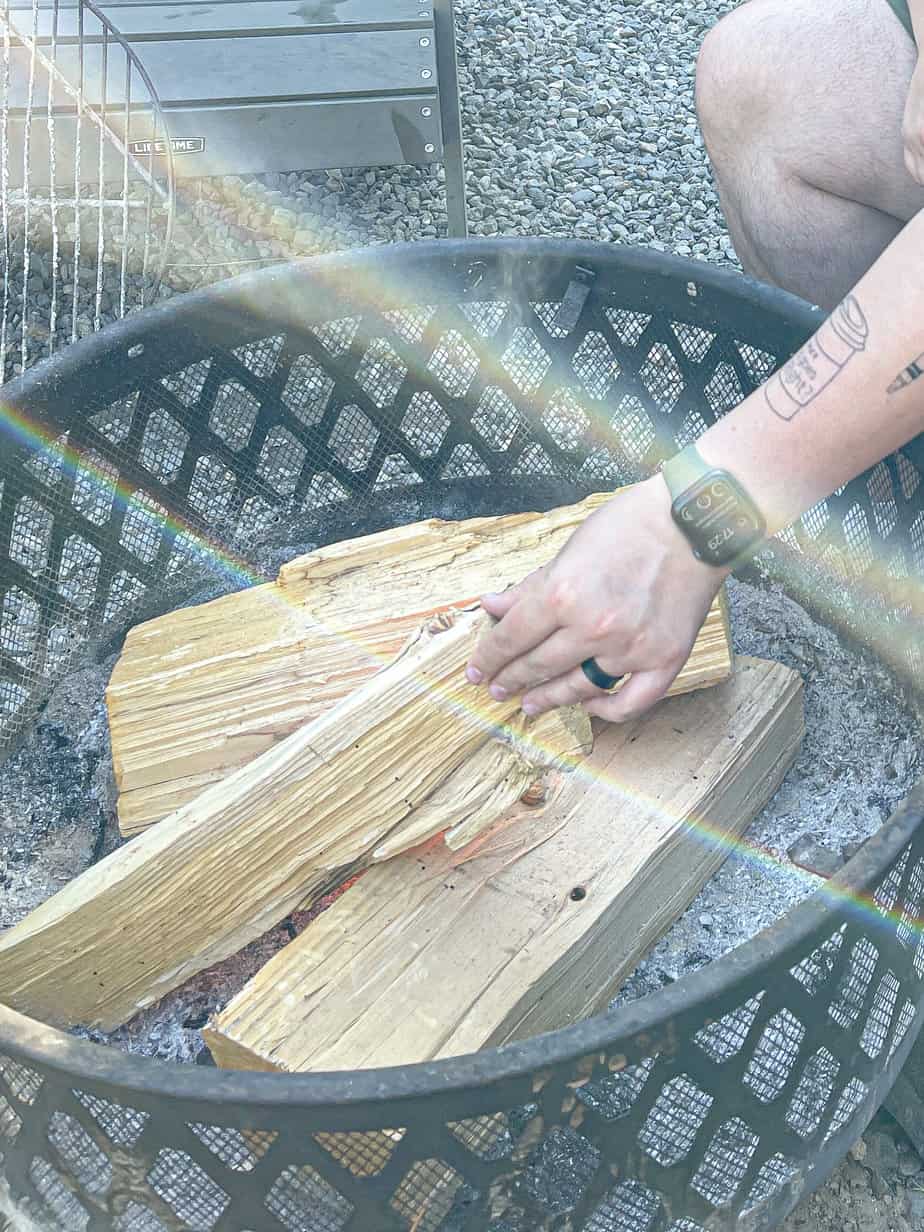 For the campfire you won't need to worry about bringing your own firewood as that is available as well for a small fee which was perfect to cook our meals, make s'mores and tell our "spooky" ghost stories.
I also forgot to mention AC/Heater! I mean come on why wouldn't you want to stay here? Not only do you have just enough to make you comfortable but the views are breathtaking photos cannot do it justice.
With a huge window alongside your bed you will wake up to the beautiful colors of the sunrise, if you choose to leave the blind up like we did. I go recommend it though if you want to experience magic first thing in the morning.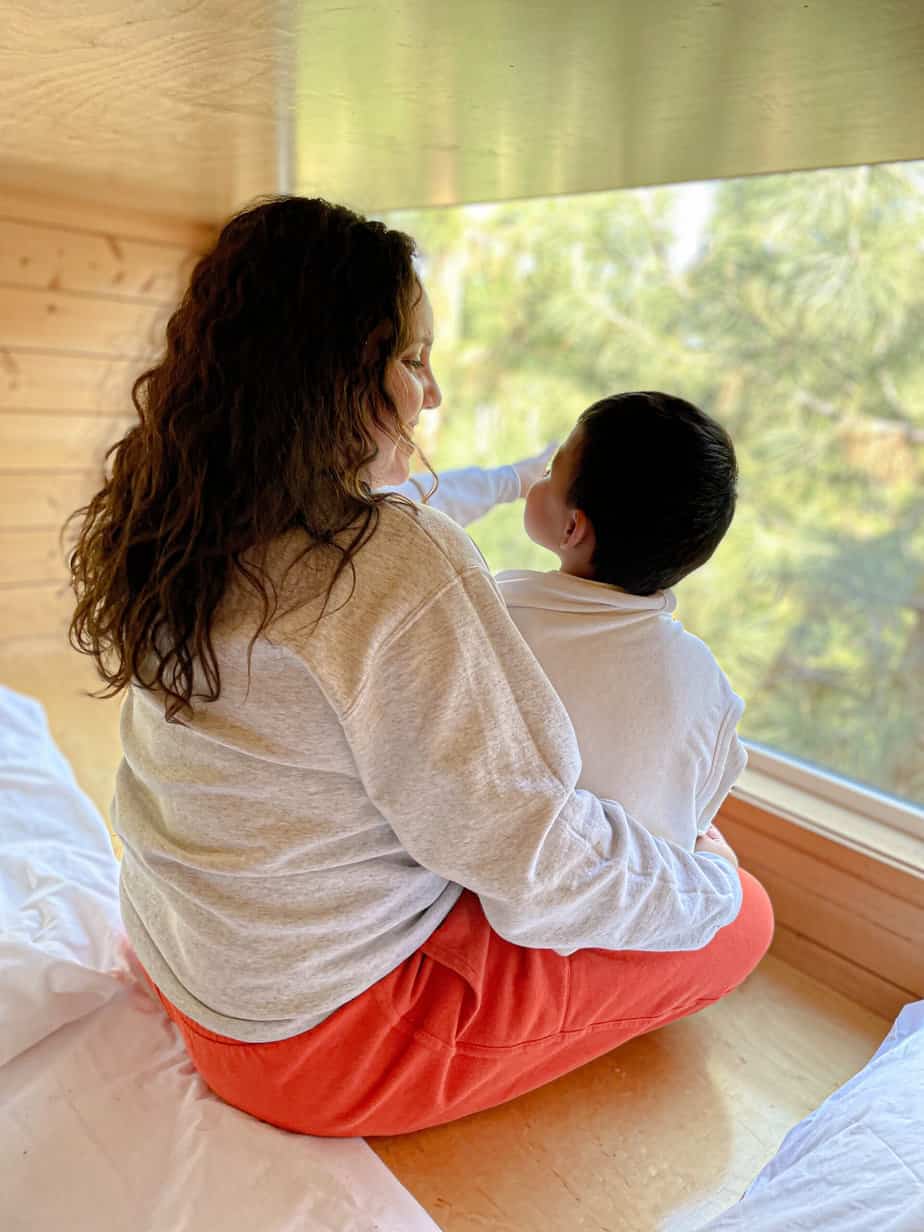 What To Pack?
Okay, so we went over everything they do have what should you pack then? You want to pack minimal since there isn't too much space to put things away and you won't really be doing much.
If you choose to stay in and around your cabin for your whole trip some a flashlight or head lamp, comfy clothes, shoes and warm pjs will do the trick along with your toiletries and medication. If you plan to explore more of what Big Bear has to offer then I would definitely plan for that. But since we stayed close by we were just fine with the basics.
We also brought 2 days worth of food, games and books to enjoy while relaxing by the fire. Since we were traveling with two kids we wanted to make sure they were busy while learning the importance of winding down and enjoying the moment.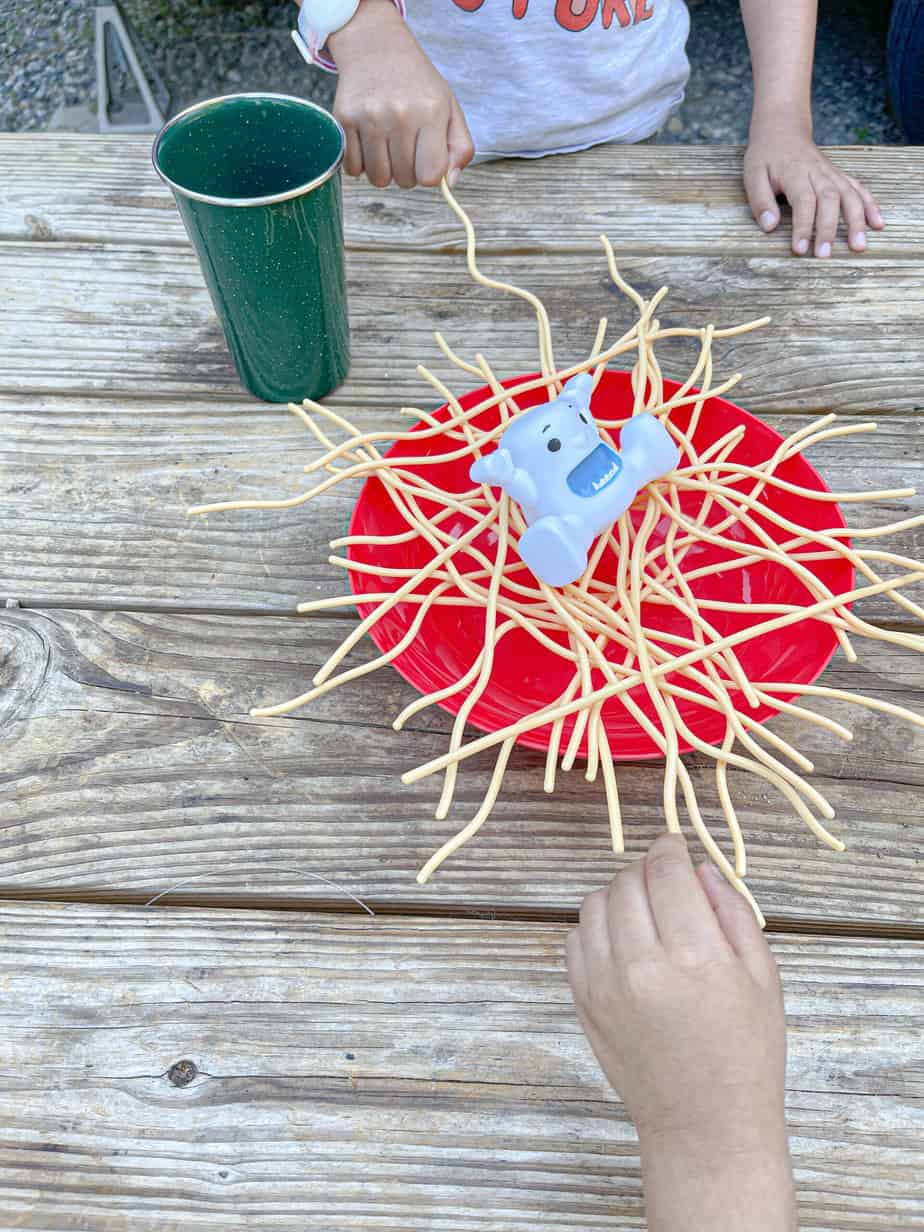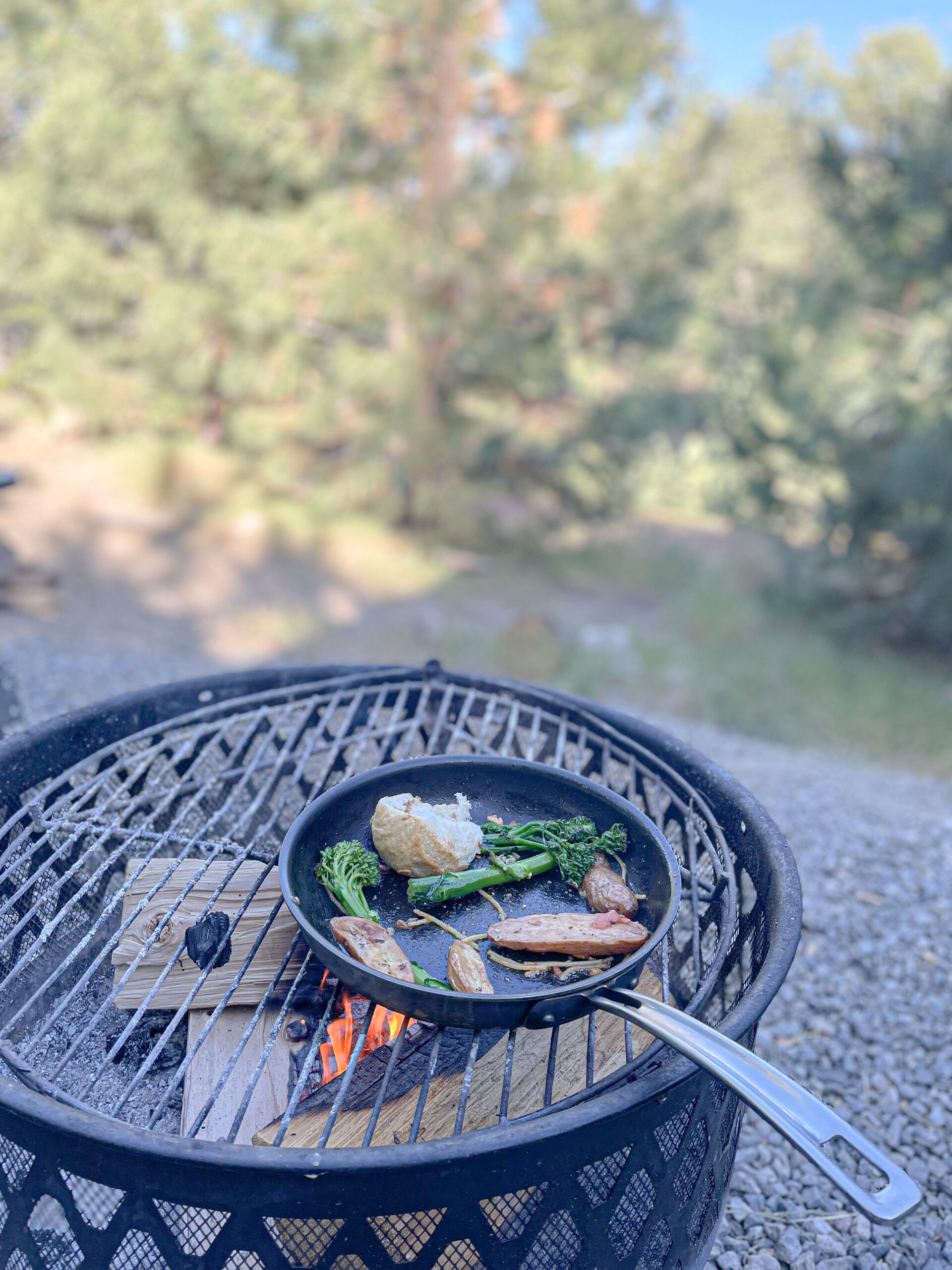 Are Getaway cabins safe?
I wasn't sure how I was going to feel about being out in the mountains with no one around but we had neighbors which made me feel so much better about the safety factor. The other outposts were close enough in case you needed something,
which we didn't thankfully, but far enough to feel like we were on our own private lot. The Getaway Team is also available in case you need anything which I thought was a nice touch.
There are keypads on the doors which require a special code you receive day of to ensure safety. really appreciated it especially having the whole family with us we wanted to ensure we were as safe as possible.
Overall we never had a concern or worry about anything. We did run out of a few things and thankfully with the staff being onsite we were able to get them right away.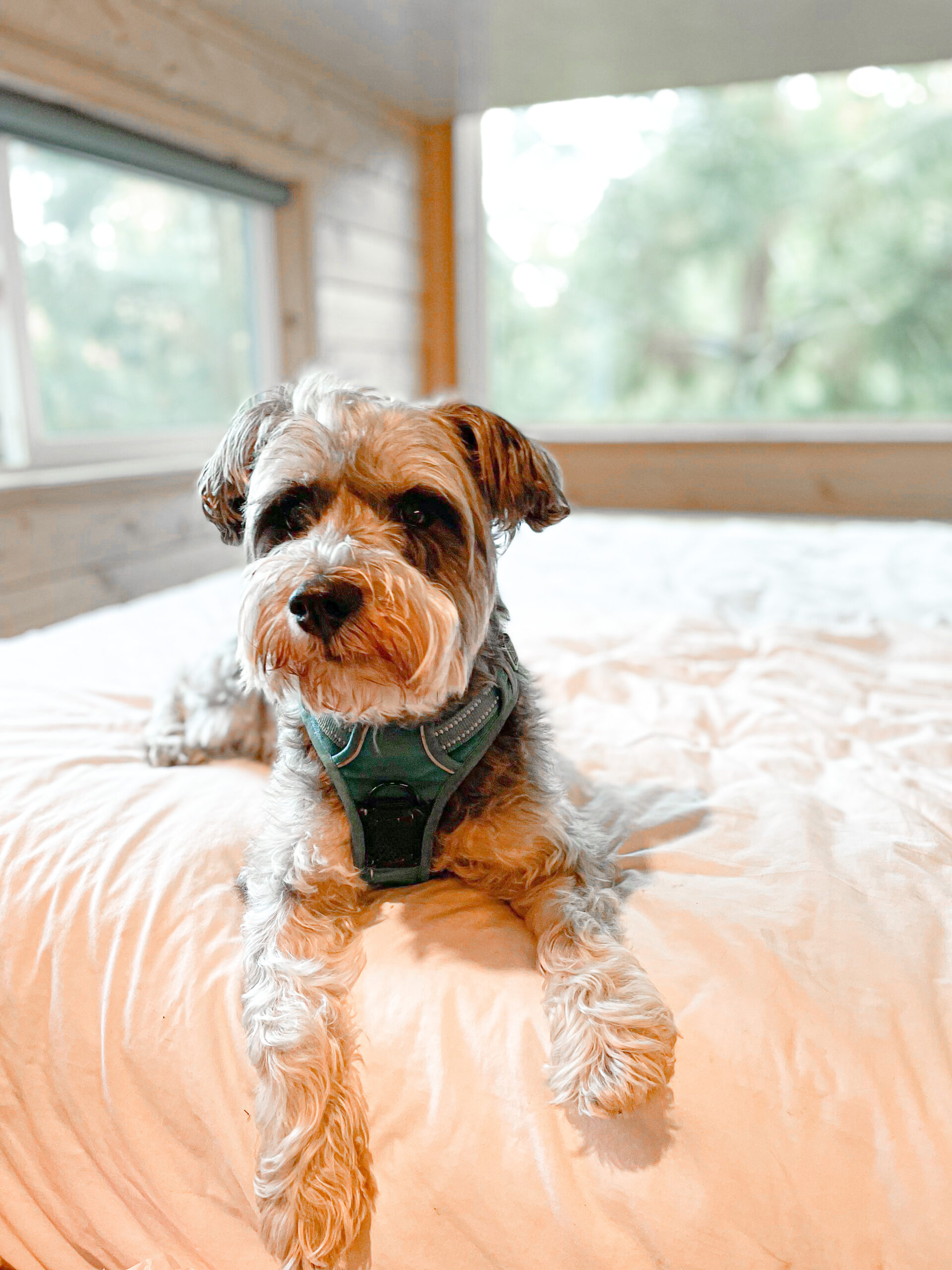 Overall Thoughts and recommendations
I can't wait to go back! We loved having the time together as a family and were really grateful it was dog friendly so we could bring our pups. They loved being in the quiet and enjoyed the comfy beds as much as we did. K and I keep talking about how we want to come back for a couples trip and leave the kiddos with the In-laws next time. :p
Depending on the time of year you go plan for unexpected weather and changes. It was really hot during the day which required sun protection in every form but was chilly once the sun was down. So packing enough clothes to keep you cool and warm is essential for maximum comfort.
Don't forget your walking shoes. The loop around Getaway House in Los Angeles is perfect for a nice stroll with the dogs and family. You'll get to see other people enjoy their cabin and you'll see some amazing views!
Book Your Stay
I hope this post helped encourage you to take some time away from the hustle and bustle of life and stop to enjoy being together. If you choose to book your use code WHATCEESAYS for $25 your booking. Check out Getaway House for availability and anything else you may need for the perfect stay.