So I decided to write a review because I believe every perspective is important. K and I both watched Happiest Season the day it came out on Hulu, November 25th. I have a lot of conflicting thoughts about this movie so let's dive in.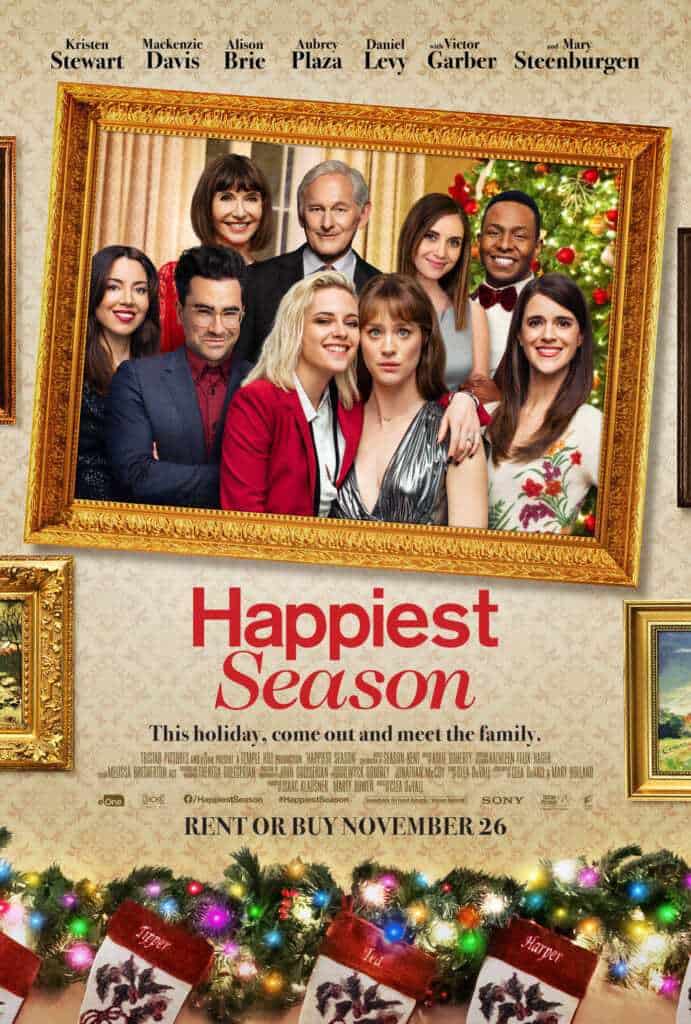 Happiest Season
Happiest Season follows couple Harper (Mackenzie Davis) & Abby (Kristen Stewart). It is Christmas time in the city and excited by all the Christmas cheer, Harper invites Abby over her family's house for the holidays. There's just one problem, Harper isn't out to her family yet, so she asks Abby to pretend to be her friend until after the holidays, when she promises she'll come out to her family. Abby agrees out of love but isn't sure how well it'll work out since they both have to go five days hiding their love and who they are.
Over the course of the next five days Abby, meets Harper's family, her dad, who's running for Mayor, her mom who is a campaign wife and her two sisters. Sloane ( Allison Brie) is the picture perfect mom and wife. She and Harper have a sibling rivalry like no other. Always trying to fight for their parent's affection and attempting to one up each other. Jane (Mary Holland) is the carefree, sometimes annoying sister who is trying just as hard to gain her parent's affection. She seems to be the black sheep in the family and the one they don't really pay attention to.
Abby is pretty much outcasted the entire time. Forced to sleep in the basement, accused of shoplifting and having to endure Harper acting ridiculous and hanging out with her ex boyfriend until 2am without her. Thankfully she meets Riley ( Aubrey Plaza) Who is an old family friend and happens to be Harper's ex Girlfriend. They both form a friendship and my goodness was I rooting for them to get together. Spoiler alert, they don't! ugh!
Dan Levy
Yes, Dan Levy gets his own section! He was amazing in this movie and almost seemed out of place. It didn't make sense to have his character, John, be a part of this movie. His character, his role, his monologue at the end, omgosh chills! It was all so perfect. He plays Abby's best friend and pretend ex boyfriend, they are pretending Abby's straight too. He's just always there for her and gives her the words of wisdom she needs at just the right time.
What I liked about Happiest Season
I really really loved that they made a movie about acceptance. Not just from your family but within yourself. Clearly Harper had some of her own reservations about herself she needed to work on. It shows that everyone has their own coming out story and I can definitely relate to Harper's story to an extent. My family does not accept me and for a while I had to pretend K was just my friend when I talked about them. Even though my family knew we were more than that. They even asked me to refer to K as my friend. So I completely understand her point and her struggle.
I loved the friendships. The friendships between John and Abby and Riley and Abby as well. It is important to have your little group of people to help you through and even though Abby and Riley just met, they really hit it off. Riley was there for Abby When Harper wasn't. Which adds to why I really wish they ended up together.
Dan levy's Monologue in the end. It honestly made me cry it was the perfect way to describe everyone's coming out story. There is no one way to do it. There is NO right way. Everyone comes out at their own time and their own pace.
What I didn't Like
Okay Here we go:
Harper
The part where Harper hangs out with her ex boyfriend without Abby
Harper Being super rude and toxic to Abby after asking her to hide not only her love for her but also who she is herself.
Harper getting upset with Abby for befriending Riley even though Harper was flirting with her ex boyfriend IN FRONT OF ABBY.
Okay okay so it's pretty obvious I was not a fan of Harper. I completely understand that everyone has their own story and not everyone is ready to come out. Especially if your parents are difficult or religious or a political figure. I totally think they could have portrayed her story differently though. She was just a little too toxic and it wasn't really necessary. They over did it with how rude and horrible Harper was. For someone who forced Abby to hide everything about her, she was not there for Abby at all. She let her family be rude to her, she ignored her and made her feel like their relationship was at stake. I can totally relate to having to hide who you are out of fear your family won't accept you. I had to do it for a long time before I said enough. But the toxicity is not necesary and I really wish Abby didn't go back to her.
My Overall Thoughts
I love that more movies of LGBTQ+ relationships are being made. But I am ready for the narrative to change. I don't want the world to think that every gay person is this toxic. That we all treat our partners this way for fear of what others think. I'm not naive, I know this exist but right now i think it's important to normalize healthy LGBTQ+ relationships. Overall, I did enjoy the movie, It's great to have LGBTQ+ representation. Dan Levy and Aubrey Plaza really made it worth watching.
Have you seen Happiest Season? What are your thoughts?