Hawkeye The Series is the next Marvel Studios Series coming to DisneyPlus this year. I had the amazing opportunity of screening the first two episodes, Review coming soon, and attending the virtual press conference moderated by Brandon Davis. Today I will be sharing a few highlights from the interview with Jeremy Renner (Clint Barton/Hawkeye) , Hailee Steinfeld (Kate Bishop), director and executive producer Rhys Thomas, Executive Producer and President of Marvel Studios Kevin Feige, Vera Famiga (Eleanor Bishop) and Tony Dalton (Jack Duquesne).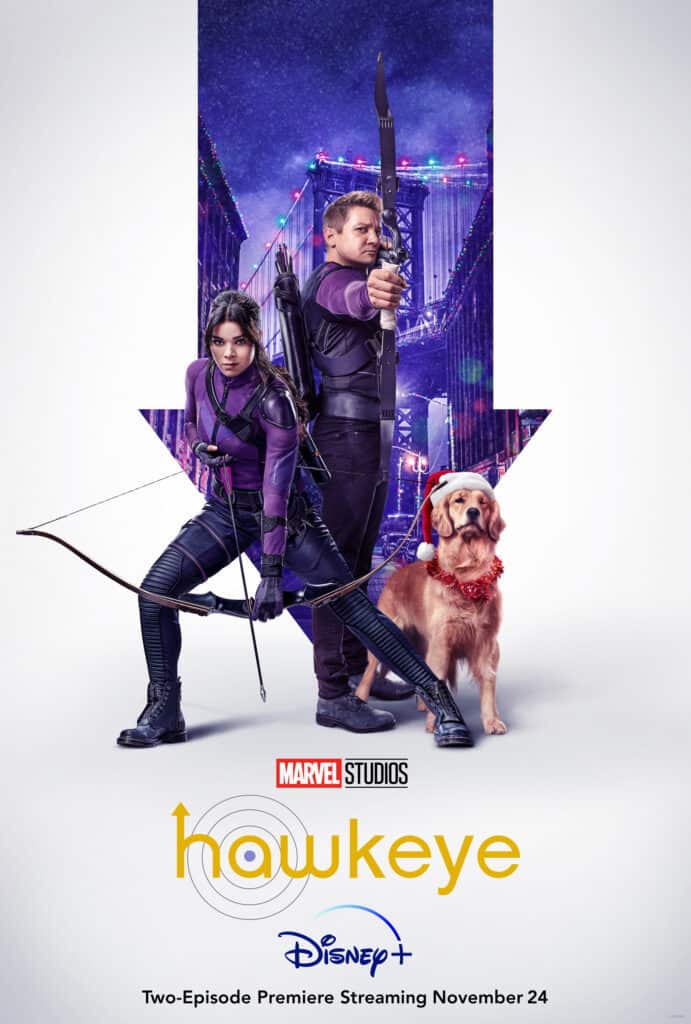 Highlights From The Hawkeye Virtual Press Conference
I have been loving the all of the new Marvel Studios series and I am very excited for Hawkeye. based on the first two episodes it definitely made its way to the number one spot on my list. We still have four more episodes to enjoy so we shall if that stays true, stay tuned.
Welcoming Hailee Steinfeld into the MCU
The interview started with welcoming Hailee Steinfeld to the MCU and it was really great to see her talk about her character Kate Bishop. Kate Bishop has a strong sense of confidence in everything she does. Hailee Steinfeld stated playing this character forced her to look for a confidence that has always been inside her. " I feel so lucky to be playing a character that is loved by so many." Hailee Steinfeld mentioned.
What Did Kevin Feige want to take advantage of in giving Hawkeye his own story?
Kevin Feige simply put "we want to see more of Jeremy Renner." He is not wrong! With Jeremy Renner being one of the six OG Avengers and in this over the past ten years, it was time we saw more of him!
Introducing Vera Famiga and Tony Dalton
Welcoming both new actors into the MCU Tony Dalton was cautious in answering his questions making sure not to give anything away. "That is the Marvel way, you are part of the family." Brandon Joked!
Vera Farmiga was an archer before this. Her first job she played an archer along with Heath Ledger.
Are we getting a Marvel musical?
Questions from the press started rolling in and one question that came up was will we get to see more of it during the show?
In true Marvel fashion, it was never directly yes or no but Kevin Feige mentioned it was an inncocent suggestion that turned into talking to an incredible composer Mark Shaiman to bring us an amazing song.
The next question asked by press was what tips did Jeremy Renner provide to Hailee Steinfeld?
"That I was never gonna shoot an actual arrow. That was the first thing he told me." Hailee Steinfeld stated that it never occurred to her that that would be the case but it was true. They could've fooled me, if they said they had to go through intense training to shoot an arrow I would have totally believed them!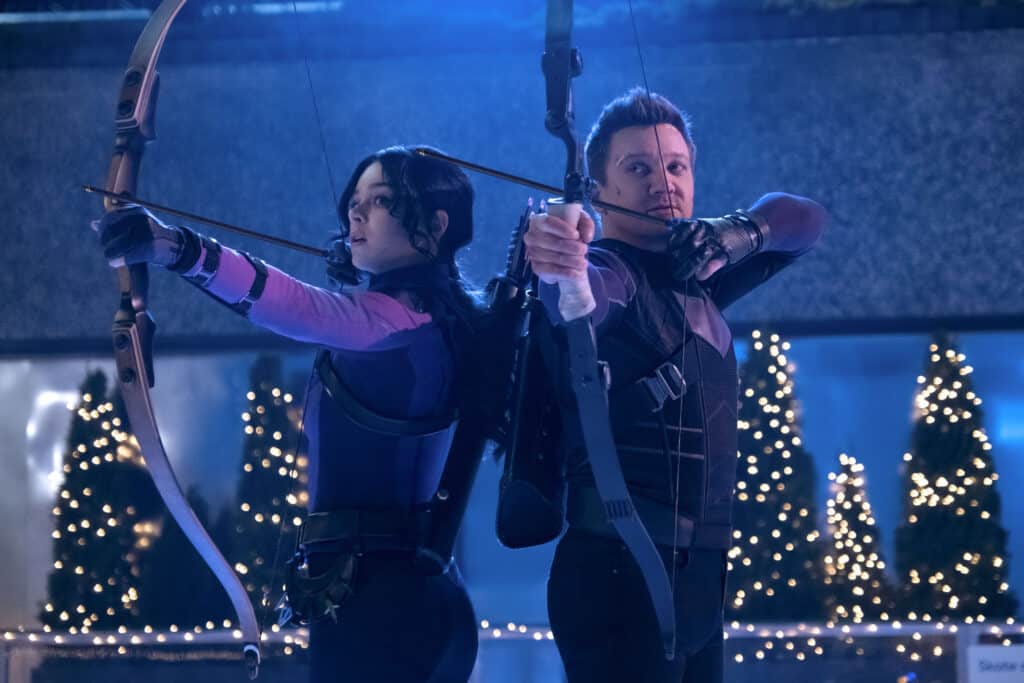 Hailee Steinfeld did not audition to be Kate Bishop
When asked what the audition process was like for Hailee Steinfeld Kevin Feige mentioned she didn't audition. They were very lucky that she was open to it because she was sort of the prototype for this character and it so happened that the dream version of the character happened!
I give major props to Hailee Steinfeld so far she is a fantastic Kate Bishop!
What was the inspiration for setting Hawkeye During the Holidays?
DIrector and Executive Producer Ryhs Thomas stated it was that classic family vacation clashing with business and it just made sense for the series.
One of the final questions asked Jeremy Renner to talk more about seeing Clint Barton as a father and exploring that side of him.
Jeremy Renner stated being a father is his superpower. "You don't want to mess with a papa bear or a mama bear and their family because you're gonna go down." Absolutely Agree!
Hawkeye The Series
This press conference was a ton of fun and it was great hearing from the cast and crew all of the special details that make this great! I am so excited for you see Hawkeye streaming exclusively on DisneyPlus November 24th.
About Hawkeye
Marvel Studios' "Hawkeye" is an original new series set in post-blip New York City where former Avenger Clint Barton aka Hawkeye (Jeremy Renner) has a seemingly simple mission: get back to his family for Christmas. But when a threat from his past shows up, Hawkeye reluctantly teams up with Kate Bishop (Hailee Steinfeld), a 22-year-old skilled archer and his biggest fan, to unravel a criminal conspiracy. The series also features Vera Farmiga, Fra Fee, Tony Dalton, Zahn McClarnon, Brian d'Arcy James and newcomer Alaqua Cox as Maya Lopez. Helmed by Rhys Thomas and directing duo Bert and Bertie, "Hawkeye" debuts exclusively on Disney+ on Nov. 24, 2021.
Watch The Trailer