There have been a few times where people have asked me about my coming out story. Whether it be a friend or a follower on Instagram, I've been asked how it all went down. Granted I am sharing the after of coming out. So I decided today I was going to share with you my coming out story.
Related: Self Care
My Coming Out Story
I have honestly written this story in my head over and over again on how I am going to share and now as I sit before my computer I'm completely blank. But as I find the right words to say to compile the biggest and most life changing event of my life I find it easier than ever.
To give you a background of who I was and the way I was raised, I will start from the beginning. Don't worry this post won't be like those recipe posts that share their entire life story before getting to the recipe. This will be quick. Promise.
I grew up in a Mexican household. Both my parents are from Mexico and migrated here in their teens. We grew up going to a Christian church but my mom was Catholic and my dad was an atheist. My mom ruled the house so she considered us a religious home. Jesus art was normal and my mom always had a little alter where she kept her bible and candles.
Traditions
I grew up in the traditional Mexican way. The wife cooks, cleans, has babies and raises them while the man works and sits on the couch and watches the game the rest of the night. Okay okay, my dad was very much involved but for the most part it was still very much that way. My entire life I was told I had to look for a man, preferably one who had a lot of money and someone I could raise kids with. Never was that a conversation for my brother, but honestly that's a whole other post.
That is the short version. But I think you can get the idea. Never growing up did I know what being gay meant or that it existed. As I grew up, homophobic slurs were a big part of the men in my life's vocabulary. At church they grilled it into us how wrong it was so it wasn't something I gave much thought. I just knew it was wrong because everyone around me told me it was. I surrounded myself with friends from church and If I wasn't with them I was preaching to my friends at school.
Figuring Myself Out
But I knew, deep down to my core, I was different. I knew that the life I was suppose to have and taught to have was not one I wanted. I thought something was "wrong' with me.
When I got to high school "why don't you have a boyfriend yet?" Was a common question from the women in my family. So to avoid those types of questions or assumptions I started liking every boy I saw that would give me the time of day. I always had a crush on someone. Now don't get me wrong, there were a couple of crushes I had that were genuine. I found, and admittedly still find some men attractive. Hey Lin Manual Miranda ;). But I am in no way attracted to them. Never have been.
You know how you can acknowledge a nice painting without any desire to learn how to paint or take it home? Yea, it's like that.
But I think the whole realizing when I was gay and coming to terms with that on my own is a whole different post. There's just a lot more into it that I won't get into here. After all this post is to share my Coming Out Story and boy do I have a story to tell.
My Coming Out Story
The first person I came out to was my cousin. Who at the time was my best friend. She was someone I knew, no matter what wouldn't judge me. I don't even think the words "I'm Gay" ever came out of my mouth the first few times I came out. I just remember saying " I like a girl from work." My cousin was great she hugged me we talked about it and I felt really good about it all. She promised not to tell anyone and that was that.
Then I told my sister. Who at the time her and her husband were, shall I say woke. They were accepting and just way more open minded and I knew if I had her on my side telling my parents would be easier.
Telling My Sister
She didn't say much but she was happy for me. The only "advice" she gave me was not to tell my parents until I was sure. Sure I was really gay and not just a phase or a one time thing. I wasn't really sure how to react to that but I was just so excited to have her on my side that I agreed. Which now looking back wasn't terrible. I knew who I was. I wouldn't be coming out to my family if I though this was just a "phase".
So I didn't say anything to my parents but I was hopeful. The two people closest to me were understanding, accepting and it made me feel like this was going to be okay. I would even have instances of me "testing" my mom. I'd make up a pretend story about someone else coming out and their parents disagreeing with it and see her reaction. She always responded with " I would love my kids no matter what." Sure mom.
Coming Out To My Mom
After a few months of not saying anything to my parents and only having my sister know I felt I was ready to tell my mom. My mom and I were close. Best friends even. She and I did everything together so I felt if I had her on my side, my dad would have to follow.
I remember it was late and were outside. I looked at her and said " Me gusta una mujer." translation, " I like a Woman."
My heart literally stopped and I felt like I wanted to throw up and runaway. Because although I was happy with being my true self and being able to share K with the world so openly now. I knew that the words that came out of my mouth will change my life forever. I knew that from that moment on, nothing with my family was ever going to be the same.
She looked at me shocked and asked me to repeat what I said. She was in denial. I don't think she believed me or understood what I said but tried her best to understand. She brought up God and church and we talked a bit after that. Then we hugged and I went to bed.
Tomorrow
When I woke up I knew she had been crying. She didn't look at me and I knew that whatever she said the night before wasn't true. It wasn't okay and she couldn't accept it. My dad asked what was wrong and my mom said not to worry about it but she asked me to leave. Honestly I was shocked. But I left and went to my sister's.
I told her what happened and she just said "Oh, Cee, why did you tell her so soon?" My parents called her and asked if she knew and she said yes and had my back. Then my brother got on the phone and he started to go off on me about it as well. He wasn't very happy about it and to this day we no longer speak.
For the next 9 years after coming out to my mom it was a lot of hurt and pain and things being said that shouldn't be said. It was constantly fighting, hiding who I was and when I finally didn't care and was open about it was when my relationship with my family ended. It took a lot of time and realizing that even though they loved me and would accept us into their home they never really accepted that I was Gay.
The Reality of Coming Out
No matter how happy I was or how happy K made me and how rather "normal" our life was, it still wasn't enough. It wasn't until recently that I decided that I was no longer going to allow my family to have a hold on me or control my emotions. I spent 8 years waiting around for them to accept. 8 years fighting, begging and hoping they would accept me as I was and treat my like their daughter before I came out.
But it wasn't until a big falling out with old roommates and learning exactly how they felt about my family was when I had enough.
It Gets Better
I used to hear It gets Better and get so annoyed if I am being honest. Because although I was happy and in love and created a life with K I was proud of. It wasn't better. I still missed my family. I didn't have my mom by my side. We stopped going to parties because we always ended up being the topic of the argument. I felt left out and I knew I was never going to be a part of the family the same way.
But now, after 9 years of *waves hands around* THAT. I realized that It did get better. Because during that time of drama on one side I was creating my very own chosen family on the other. K and their family have been my rock through everything every step of the way.
We created our own family with the friends we worked with. When I didn't have a brother or a sister I had our best friends to fill that void and love me unconditionally. We had our very own little family that was chosen by us but also chose us to be theirs.
So now I know it gets better. I don't know how or when or why but one day you will know it just will.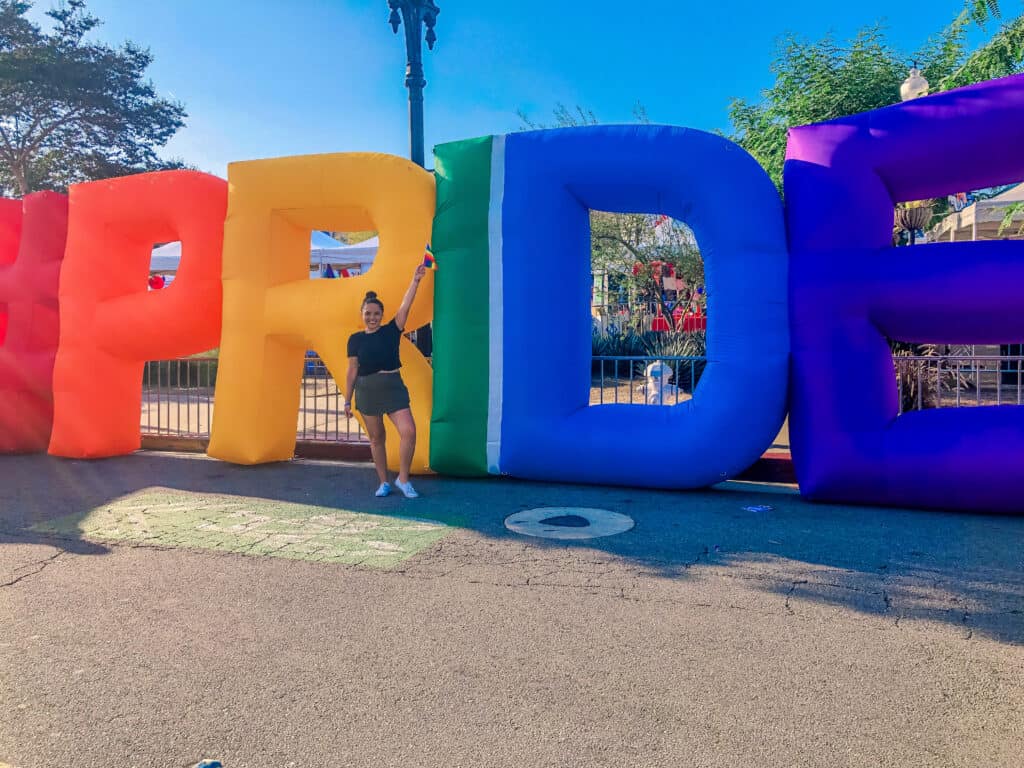 Resources
If you are someone currently out and struggling or maybe you aren't out yet and are afraid of what the outcome might be just know this. You are stronger than you think you are. Trust me. Never would I believe that I'd be able to go through what I went through and be okay. Find your chosen family. Whether they are also members of the LGBTQ+ community or allies. Surround yourself with people who will lift you up and make you feel special and normal, because you are.
If haven't come out yet please know that you do not have to come out right now if you aren't ready. Especially if you feel like it might not be safe to do so right now. I felt safe to come out because I had already moved out of my parents house. I had my own place in a different city that I could go to if I needed to. Take your time and take care of yourself.
If you are currently a parent of someone who identifies as LGBTQ+ or maybe you are just a parent. All I can ask is to listen to them truly educate yourself on what it means to be them and know that this isn't bad. This is just who they are and that's okay. But also, Love them. Love them unconditionally. Love them fiercely. The world is already a scary place, be their comfort and home and place of acceptance. Having your love an support can and most likely save their lives.
If you need resources as someone who identifies with the LGBTQ+ community or parents of someone who does, I am sharing some resources to help you navigate the conversation.
The Trevor Project has an incredible handbook on Coming Out. This is perfect for people coming and parents.
PFlag has greate resources for families of all religions and beliefs.
National Suicide Prevention LifelineHours: Available 24 hours. Languages: English, Spanish. Learn more800-273-8255
Suicide is the 2nd leading cause of death among young people ages 10 to 24.
LGB youth seriously contemplate suicide at almost three times the rate of heterosexual youth.
LGB youth are almost five times as likely to have attempted suicide compared to heterosexual youth.
You are not alone. You are loved, you are wanted, you are you and that's beautiful.
Thank you for reading my coming out story. It has been a long hard journey but finding happiness is well worth it. This isn't meant to bash anyone. I know my parents did their best and tried to understand. I just wasn't okay with everything after that. People grow apart and sometimes that also means family. but what matters is the family you choose and create for yourself.
IT Gets Better.