"This post contains affiliate links, which means I receive a small commission, at no extra cost to you, if you make a purchase using this link. Please see my disclosure for more details."
If you are looking for a gentle and natural cleansing balm to remove your makeup and have your skin feeling great keep on reading. Today I am sharing my review of the JunoSkin Cleansing balm for sensitive skin.
Related: Practicing self Care as a Stay At Home Mom
The Best Cleansing Balm for Sensitive Skin
I love to wear a lot of makeup. It makes me feel pretty and I love doing different techniques to get a different look. I have always loved using foundation and I recently found that matte foundation makes my skin look amazing and flawless. But with a great foundation comes some issues. Foundation can be thick and hard to remove with just water and face wash. I used to use generic makeup wipes that didn't always get the job done or would pull on my skin.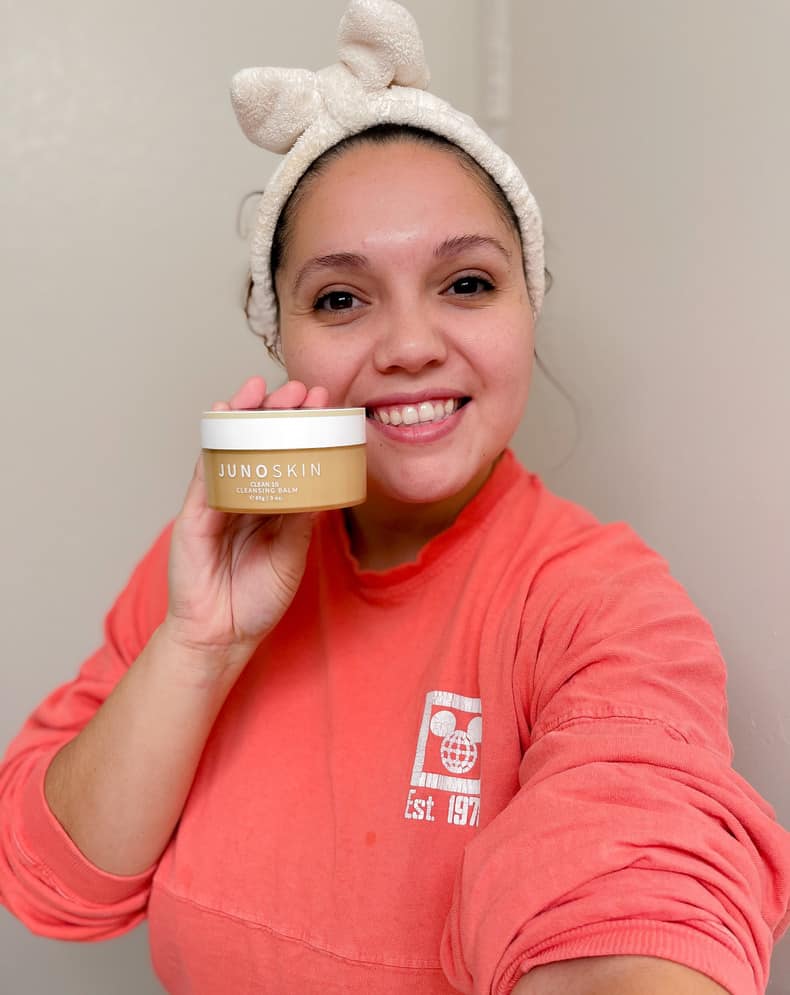 Then one day I was scrolling on TikTok and kept seeing this JunoSkin Cleansing Balm that people swore was natural, gentle on your skin and took off all of your makeup. It took me a few days of seeing it over and over again to buy so I guess you can say TikTok made me buy it lol.
What is the JunoSkin Cleansing Balm?
JunoSkin Clean10 Cleansing balm is an oil-based cleansing balm meant for all skin types that effortlessly melts your makeup off. It removes, dark lipsticks, costume makeup, waterproof mascara and more. JunoSkin Cleansing balm is vegan, sustainable and made in California, which is a win for me! You can this and other products on junoco.com.
Why does this work for sensitive skin?
This cleansing balm was formulated to help all skin types. With only ten ingredients you can trust that the ingredients are natural and per my experience safe on dry sensitive skin.
My Honest Review On JunoSkin Cleansing balm
I have been using this product for over two weeks now and I have to say I love it. A little goes a long way even with a full face of makeup and its such an easy process. It smells, amazing, the package is aesthetically pleasing. I used to use makeup wipes that were harsh on my skin but this only requires a few makeup cotton pads or a soft towel to wipe it off.
I really enjoy this product and highly recommend! If you're looking for a more skin friendly alternative to makeup remover wipes or wash, this is for you!