Turns out, it's possible to miss a place as if it were a person.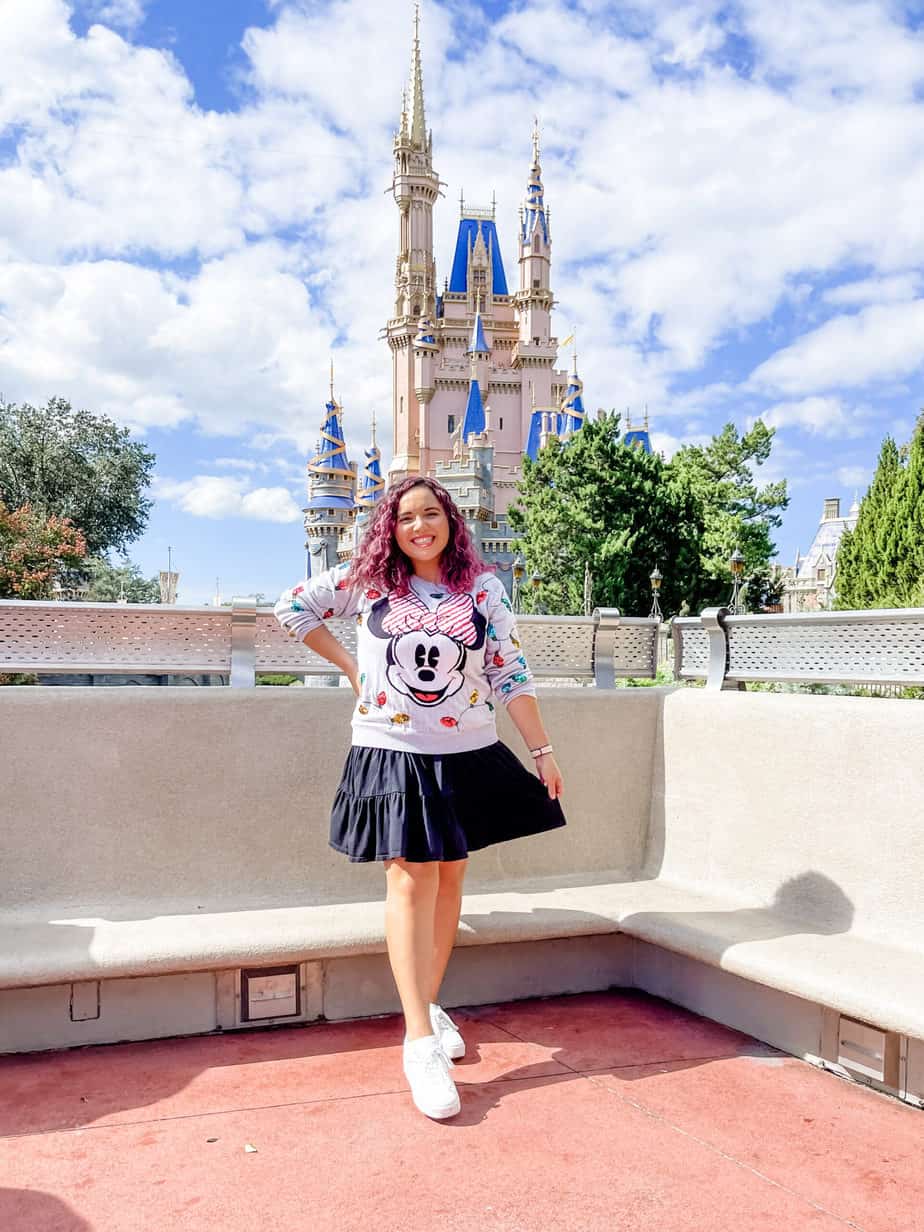 My spouse and I have managed to plan a Walt Disney World Vacation three times now. Two with just the two of us and once with kids. If we had unlimited resources we would go AT LEAST once every six months.
The thing about a Walt Disney World Vacation is, it's immersive, in every sense of the word. If you plan ahead and organize it all in advance, you're away from the real world the moment you land in Orlando.

Like I said- we've had a Walt Disney World Vacation twice together and once as a family of four. That's not including the countless trips my spouse went on with their family growing up. But I want to use this post to break down our first trip, the lessons we learned, and the favorite moments. The items we loved so much that we declared them to be future "musts".
Planning The Ultimate Walt Disney World Vacation
DAY 1: The Travel Day
Our Walt Disney World vacation day was almost-entirely consumed by travel. We saved money on airfare by booking a flight agenda with a longer layover and late arrival. We got in after than the complimentary baggage claim was available. So we waited for our bags and then effortlessly followed the airport signage for WDW Guests. We met a Cast Member (in the airport!!) who scanned our magic bands and then we boarded the Magical Express. The bus took us directly to our on-property hotel, Caribbean Cove. It should be noted that we reserved this particular hotel SOLELY for the pirate ship beds.

Wrap up:
Saved mon-ay by having a longer/later travel day! This would have probably been a miserable route to take with little ones in the party.
Lesson:
Though we could certainly survive future trips without the complimentary baggage claim service. (Disney will collect tagged Guest luggage that arrives within certain hours and bring it directly to your hotel room). Arriving late was quite draining. We didn't account for the fact that the Magical Express waits for a few flight cycles of arriving Guests and then stops at several on-site hotels. By the time we got to our room, we were exhausted.
DAY 2: Woke up in a pirate ship/Magic Kingdom
Because we had planned for two days in the Magic Kingdom,
we woke up early the next morning (in a pirate ship bed!!), as we had our first breakfast reservation of the trip at Be Our Guest, located in Belle's Castle in the Magic Kingdom. We took the bus from our hotel to Magic Kingdom and got in before the park technically opened! Thanks to the "magic hour" for Guests staying at the Disney properties. I cried walking down Mainstreet for the first time! The castle is completely unlike that in the Disneyland Park I grew up going to. Don't get me wrong, ours is classic and timeless and perfect. But WDW certainly stepped things up in size from its predecessor.
We used the first day of our Walt Disney World Vacation to focus on Fantasyland/Tomorrowland/Mainstreet. We fit in just about every attraction we wanted to, with a lunch break at The Golden Horseshoe that was a family-style meal of camp foods (including s' mores). Seven Dwarfs Mine Train floored me with its use of technology and storytelling within an attraction that was still a thrill ride. K insisted that we attend the "Laugh Factory" in Tomorrowland multiple times throughout the day, as well as her all-time favorite attraction Philharmonic.
As someone who grew up in SoCal and also worked for a bit at Disneyland, it amazed me how similar yet different the Magic Kingdom was from Disneyland. The Fantasyland classics were all there, but just slightly different and in somewhat different footings within the land. Small World in Disney World is absolutely nothing like the stand-alone all-white-and-gold monument that it is in Disneyland, but the song got stuck in my head all the same.
We left the park shortly before fireworks, and took the ferry from the Magic Kingdom over to the Polynesian Resort, for a late dinner at O'hana. We were a bit hangry at this point, so we ate every last sticky wing and at an embarrassing speed, and all with a window view of the fireworks across the lake.

Wrap-Up:
Magic Kingdom exceeded my expectations, especially as a well-seasoned Disneyland Guest. It retained the nostalgia factor for my wife and her childhood visits, but there were also new elements for us to explore for the first time together.
Lesson Learned:
Maybe don't plan out your dining plan reservations as if you're invincible and can go hours walking and in the heat between meals like that will be just fine. It won't. It will test your marriage. AND this was the day after a late arrival. K planned that; we've since discussed the areas for development and "future opportunity".
Day 3: Guess Who's Back (Magic Kingdom, Round Deux)
The second round at The Magic Kingdom was reserved for Adventureland, Frontierland, and Liberty Square. We first stopped for breakfast at Cinderella's Castle, bc at WDW you CAN DINE INSIDE THE CASTLE LIKE THAT'S NORMAL.
Anyway.
Breakfast there was fantastic and was also character dining with all the princesses. Then it was off the attractions. Pirates of the Caribbean and Haunted Mansion both amazed me once again with how similar yet totally unique they were compared to their counterparts in Disneyland. Jungle Cruise was the major "must" for my wife, as she was a Skipper at Disneyland for a few years. Our skipper was hilarious, and it was a totally different version of something we both had known so well. We also stopped at the "Skipper Canteen" for lunch, because obviously, and wandered around the restaurant finding all the hidden puns within the decor.
The highlight of the day, however, was the nighttime entertainment. First off, K re-gained credit after the infamous dinner-scheduling blunder. Lunch and dinner were timed more appropriately apart, and she scheduled our dinner intentionally to be at the same time as fireworks at the Crystal Arcade, which is right on the end of Main Street. While other Guests stopped early to grab a good view for the fireworks, we got to walk into our reservation, set our bags down and order our drinks, and then walk right out to the patio and watch the fireworks from a clear view. The dinner itself was fairly low-key, but it was another character dining (Pooh and Friends) and between that and the prime firework viewing it couldn't have been more perfect.
Wrap Up:
The Magic Kingdom was just as magical the second day! It gave us plenty of time to wrap up everything we wanted to do. The nighttime entertainment stole the show and gave that classic "Disney feeling". Both the fireworks and the laser projection show on the castle. So many happy tears were shed.
Lesson Learned:
If you elect the dining plan option, make the most of it by booking as many character dining options as possible. Especially if you have little ones in your group! this will save you TONS of time from having to wait in character lines. Instead, you just sit and eat and the characters come to you and interact one-on-one with your group.
To Be Continued…
To keep this post from being an hour-long read. I'll split it up and add the remaining days of our first trip in a post later this week. I do hope that giving insight on our trip, the highlights and the lessons help anyone who may be looking to visit WDW soon! If you haven't been before it's an absolute must (for any age or group), and if you have, there's likely still more to do!