This Post may contain affiliate links
Creating a Morning Routine as a Stay at Home Mom we can stick to and be productive can be tough. No matter how hard we try to follow a schedule down to the second, something always happens where we just can't follow our plan. Today I am sharing with you my realistic Morning Routine as a Stay at Home Mom. I say realistic because as much as I would like to be, I am not supermom. I do not wake up every morning at 5am with my hair and makeup done with a full buffet of breakfast ready. Does this make me a bad mom? Absolutely not, and it doesn't make you one either if this isn't you. So let me share with you an easy, manageable and realistic morning routine for stay at home moms.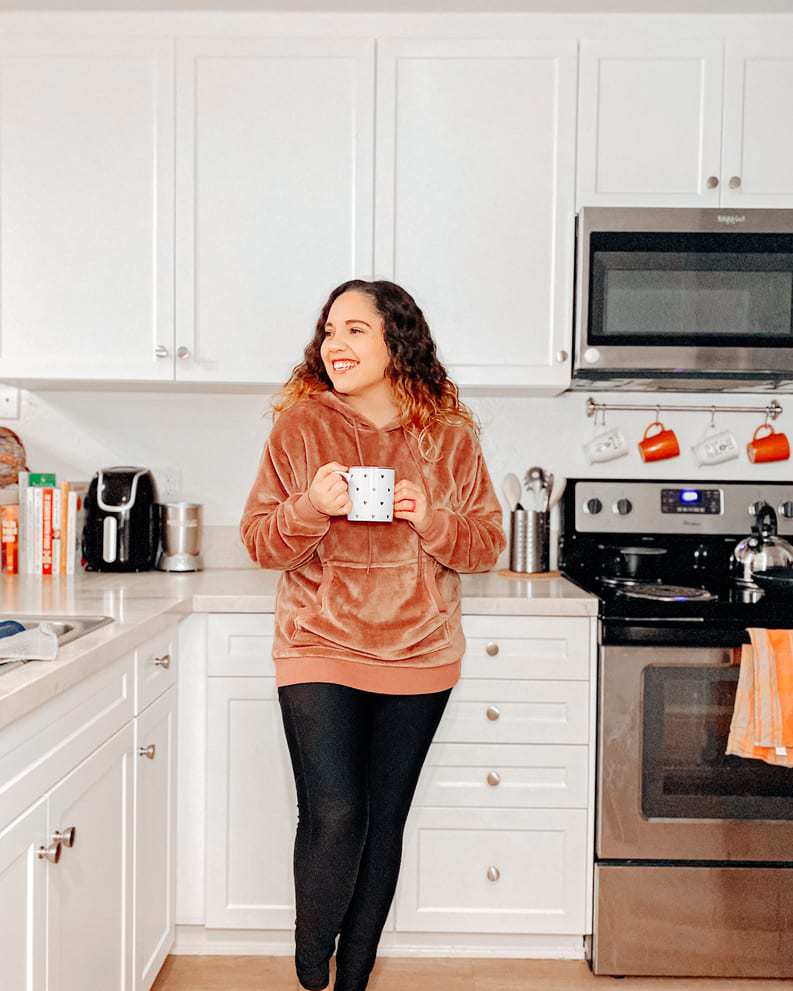 My Realistic Morning Routine as a Stay at Home Mom
So what is a morning routine and how important are they really? Whether we have a plan or not, what we do in the morning is our routine. But with kids it's important to have a little more direction and structure so the day doesn't end in chaos. So even if it's not planned to the T it is important to have some sort of routine planned out. The first thing I want to say is, it's okay if you don't follow the same plan everyday. My routine changes on the daily but the basics are always the same.
How To Set Up A Realistic Morning Routine as a Stay at Home Mom
To set up a realistic Morning Routine as a Stay at Home Mom, take a look at your day. What time do you usually wake up? When do your kids wake up? Are you having to do school drop off? Figure out the things you have to do in the morning so you can include that within your schedule. If you are an early riser and your kids are still asleep, maybe you want to schedule in some self care. I usually schedule 2-3 days a week where I wake up at 5am so I can get some work done and some alone time.
I know waking up that early does not sound appealing, trust me I know, I love my sleep too. but if the morning is the only time you can schedule time for yourself, do it. It'll be difficult at first but you'll get used to it, especially once you find out how nice it is to be able to drink your coffee while it's still hot.
What Do I Need To Schedule My Morning Routine?
Honestly, you just need the willpower to set it and stick with it. But if you are a visual person like myself here are a few things that can help you be successful:
A Daily Planner – This is the planner I use. I use it for everything, meals, blog/IG content, personal goals, workouts and my daily musts for my routine.
A Wall Calendar – Sometimes you need different visuals to remind you of your schedule. I know I do. so this is a really cute and fun wall calendar to help you set your routine.
Your alarm – sometimes setting alarms or reminders will help you stay on track for the first few days until you get used to it.
Adding In The Basics
So what are the basics of your morning routine? That could mean, breakfast, play time, learning time, quiet time etc. These are the basics, never miss a beat part of the routine. So if we have the basics down what can be flexible?
Here's where I change it up daily. I don't have a set time I wake up everyday. There are days I wake up at 5am and there are days I wake up at 10am. It all honestly depends on how that morning is going and if I had enough sleep the night before. My kids usually wake up in between 8:30am-9:00am. Little dude usually wakes up first and goes straight to his playroom. That's when I wake up, ideally. Sometimes my spouse wakes up first and checks on him.
If not, I'll check on him and make sure he's okay and then I'll lay back down. Then my spouse will wake up and head downstairs to prep their coffee and breakfast and take little dude with them. They come back up stairs and he goes back to his playroom. Then tiny wakes up and I'll got get him, change his diaper, feed him then he goes and plays with his brother. Depending on how tired I am I'll lay back down or get ready to head downstairs for the day.
But if I have had enough sleep, I'll wake up with my oldest and we head downstairs together and make his breakfast and prepare Tiny's breakfast and wait for him to wake up.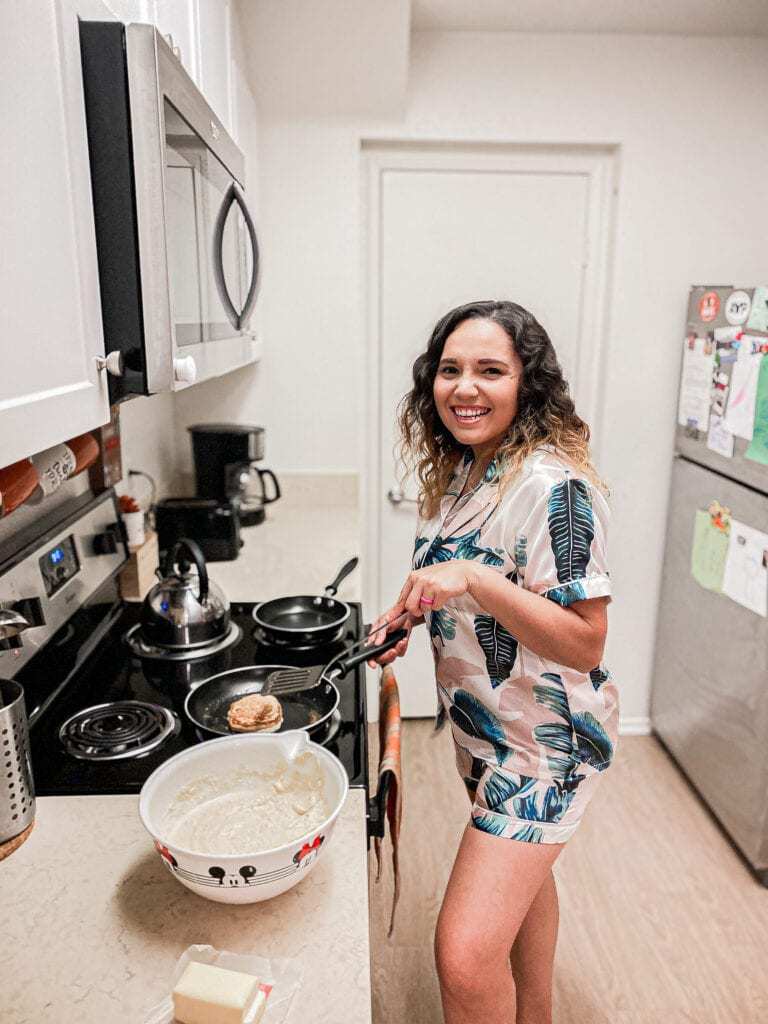 Create A Morning Routine That Fits Your Needs
I know there are a lot of accounts out there that make it seem like you have to fit every single thing into the first few hours of your morning. Maybe that's doable for them but I know for me, I need to stretch out my tasks so I can be more productive. If I am feeling rather productive I am great at multitasking and getting everything done in the first few hours. But on days I am feeling slow and sluggish I take my time. What helps me the most is writing out a to-do list. Write down the things you need to get done. For example, laundry, dishes, making doctors appointments etc. that way it'll be all the more satisfying when you check it off for the day and it helps set as a reminder of things you still need to get done.
My Realistic Morning Routine as a Stay at Home Mom
Now I am going to share with you my rough daily morning routine. Keep in mind things may change day to day but the basics and needs are the same.
(If I don't wake up at 5am, my day will start around the 9:30am mark)
5:00am – 5:30am: Wake up, drink water, make my coffee and breakfast get my laptop and notebook out. Scroll on my phone, check emails, engage on Instagram, plan photo and caption for the day. Take my time drinking my coffee and eating my breakfast.
5:30am – 9:00am: Work on my blog, create pins and marketing plan for the week. Research, Take pictures, sometimes nap if I am still tired. Boys will wake up around 8/8:30am but K will get them ready to come downstairs. Depending on how needy they are, I'll put my laptop away and help get them ready.
9:00am – 9:30am: Get breakfast ready while the kids play. Re-run the washer and dryer to freshen up the clothes left in from the night before.
9:30am – 10:00am: Kids eat while I fold clothes and switch over the laundry and put dishes away, load the dishwasher, clean countertops and prep for snacks and lunches.
10:00am – 11:30am – Playtime, tv time, and/or tablet time. This all depends on how much left I have to do around the house as far as cleaning goes all while making snacks for the kids, myself and K. If I feel like I got enough done I will sit down and hang out with the boys. If it's a nice day out we will head to the park across the street to play for a bit.
11:30am – Noon: Get Little Dude ready for his online preschool. Get them dressed and send Tiny upstairs with K to play in his playroom.
12:30 – 1:00pm: online preschool and snack
Things Change And That's Okay
Because of the pandemic things around us are still closed so we aren't going out or doing much these days. But if this were a normal day (pre pandemic) we'd be heading off to Disneyland or an outdoor mall to walk around. Keep in mind our kiddos are in foster care so our routine used to look a little different because we had in person visitations with bio parents. So that also changed things up a bit. But since those are no longer going on, this is roughly how we spend our day. Again depending on our mood things change or some days the boys wake up a little later or earlier than expected. Sometimes we will all wake up together and head to Dunkin' and Starbucks for a morning treat. Just really depends how I am feeling that morning and what I want to do.
Key Takeaways
One thing I want you to take away from this post is this, no matter what, YOU are in charge. You get to decide what happens in your own home during your routine. You are the maker of all things so it is up to you on how you want to schedule your morning. The only important thing here is making sure to make time for yourself and of course make sure your kids are fed and happy.
Plan a routine that will:
Allow you time for yourself
Fit the basics in first
Figure out your needs
Create a to do list of daily must dos
Get a planner to help you stay on track
But most importantly give yourself grace.
I hope this post was helpful and helps you create a realistic morning routine. You got this mama!