I am an affiliate with Getaway Today which means I may get compensated if you book through my link. This will be at no extra cost to you. Thank you for your support.
Star Wars: Galaxy's Edge
Are you already looking forward to the adventures you'll take in this year? With the help of Get Away Today you can book your 2021 Disneyland vacation now that the Parks are open.
Related: The Ultimate Disney Bucket List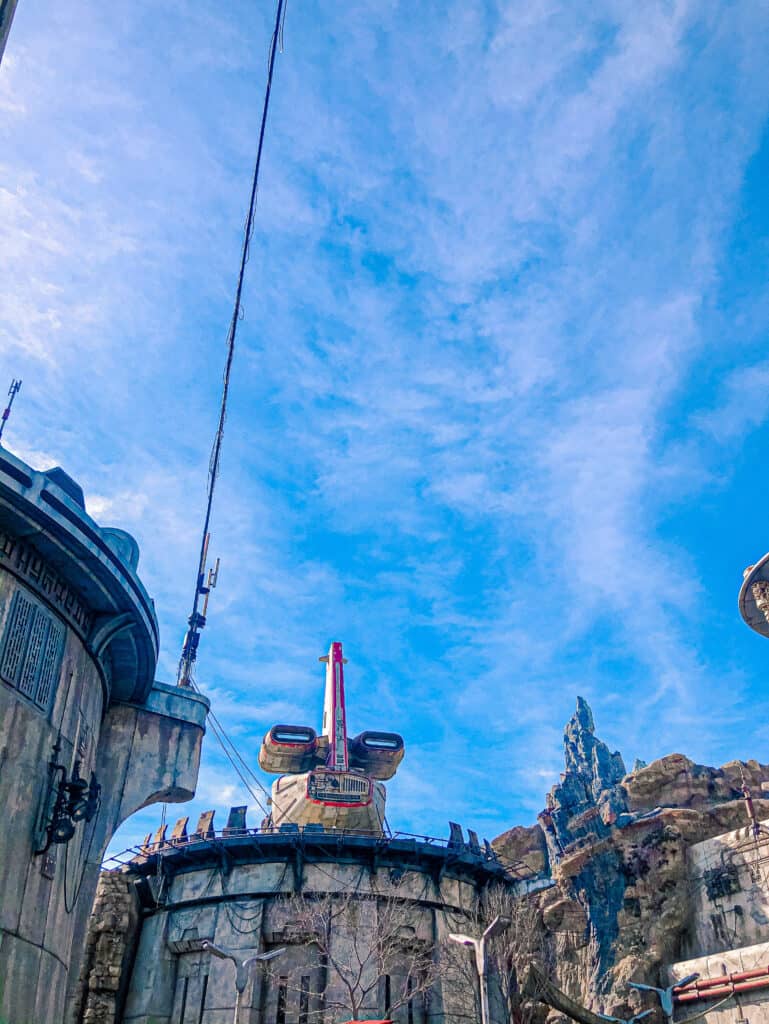 Star Wars: Galaxy's Edge Disneyland
You may be familiar with the new land that opened at the Disneyland Resort in May 2019 and the new ride Rise of The Resistance that opened January 2020. Thanks to the travel experts at Get Away Today, I have all the Star Wars: Galaxy's Edge details you need to know to plan a 2020 Disneyland vacation.
Star Wars: Galaxy's Edge Rides
When Disneyland first welcomed visitors to the planet of Batuu in a galaxy far, far away, there was one amazing ride- Millennium Falcon: Smuggler's Run. This attractions invites guests to hop aboard the fastest hunk of junk in the galaxy on a smuggling mission for Hondo Ohnaka. Take the role of either pilot, gunner or engineer and attempt to safely navigate the Millennium Falcon and return it in one piece!
On January 17, 2020, Star Wars: Galaxy's Edge opened an all-new immersive experience to those who travel to Batuu. Rise of the Resistance is expected to be the most technologically advanced ride Disney has ever created; it will make you feel you're living your own Star Wars story! With an interactive queue and an epic battle between the First Order and the Resistance, you'll be met with holograms, TIE fighters, Star Destroyers and more.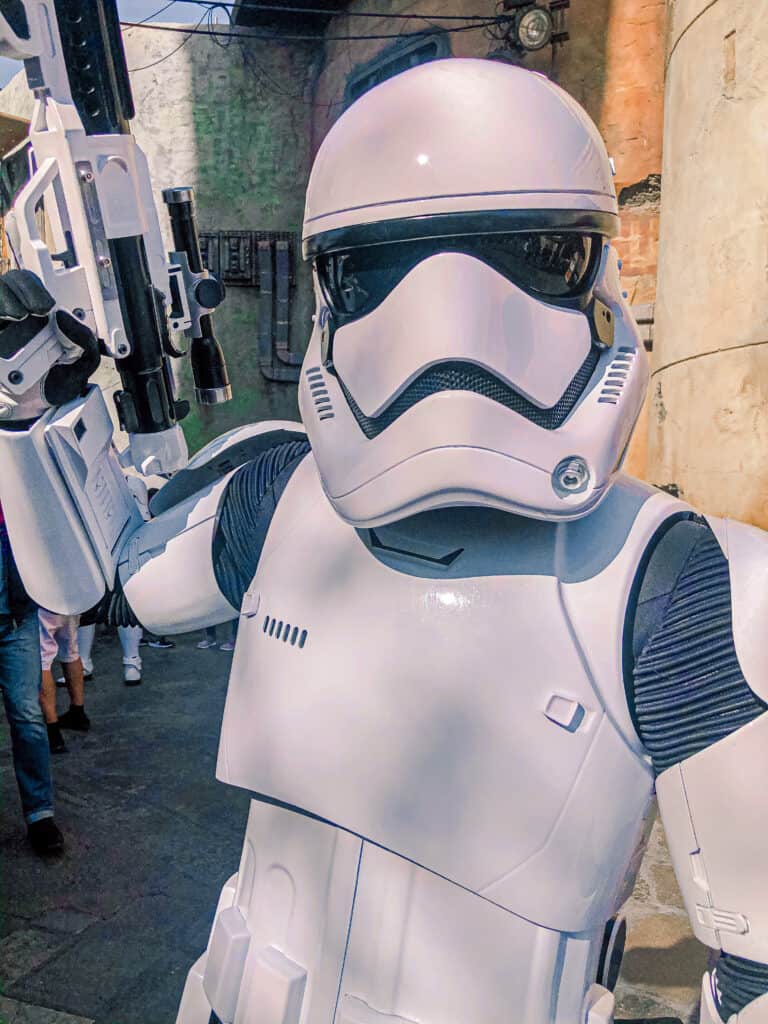 Star Wars: Galaxy's Edge Dining
When you enter Star Wars: Galaxy's Edge, you'll find menu items that are truly out-of-this world. Everything is made to look, feel and taste authentic on the planet of Batuu. Whether you stop by a quick-service vendor or grab a seat near Docking Bay 7 Food & Cargo, you'll enjoy family-friendly food inspired by Star Wars.
Docking Bay 7 Food and Cargo – Chef Strono "Cookie" Tuggs operates an intergalactic food truck in the Docking Bay 7 hangar. Chef Tuggs serves all sorts of exotic flavors that he has perfected from his travels throughout the galaxy. Tuggs' Grub is a fast, casual dining experience at Star Wars: Galaxy's Edge that accepts Mobile Ordering so you can avoid the traditional line and pay in advance before pickup.
Kat Saka's Kettle – For a Disneyland staple with a Star Wars twist, visit Kat Saka's Kettle in Galaxy's Edge. Here you will find a specialty popcorn unlike any other available in the Resort. Choose between Chocolate with Red Crait Salt and the Outpost Mix, which is a blend of spicy and sweet.
Blue Milk and More
Milk Stand – The milk doesn't get fresher than from Bubo Wamba Family Farms! At the Milk Stand you will find their refreshing plant-based "milk" slushies in both blue and green. Many guests report that mixing the two tastes delicious, and that one serving can easily be shared between two people.
Oga's Cantina – Make a no-cost reservation in the Disneyland app to visit Oga's Cantina in Galaxy's Edge. This family-friendly establishment serves up specialty drinks and bar snacks to the tunes of droid DJ R-3X. It's often standing-room-only, and there is a 45-minute time limit on your visit.
Ronto Roasters – Skewered meats will be cooked to perfection on spits, monitored by former smelter droid 8D-J8. Enjoy breakfast, lunch or dinner at Ronto Roasters and find menu items including overnight oats, jerky, vegetarian wraps and more. This location accepts Mobile Ordering so you can order and prepay from your smartphone.
Star Wars: Galaxy's Edge Experiences & Merchandise
Galaxy's Edge is home to many outposts where you can find Star Wars merchandise and souvenir experiences.
Droid Depot – Build your own custom Droid when you visit Galaxy's Edge. Choose colors, a personality and a name for your new companion and see how it interacts with the land as you explore Batuu. This experience starts at 99 credits ($99 USD), with add-ons such as personality chips costing extra.
Savi's Workshop Handbuilt Lightsabers – With a no-cost reservation, you can be one of 14 guests to build a custom lightsaber at Savi's. Pick the kyber crystal, hilt and more before participating in an induction ceremony for members of the Resistance. This experience starts at 199 credits ($199 USD).
Black Spire Outfitters – Fit in with the locals with apparel and gear from this outpost.
Souvenirs
Creature Stall – Adopt an alien pet from the Creature Stall, such as a Kowakian monkey-lizard or a Hutt.
Dok-Ondar's Den of Antiquities – If you're looking for something unique to commemorate your visit to Batuu, stop by Dok-Ondar's to see things he's sourced from all over the galaxy.
First Order Cargo – If you are part of the First Order, or just want to look the part, you'll find everything you need in this outpost.
Resistance Supply – If you're loyal to the Resistance, show your true colors with the purchase of apparel and gear from this shop.
Toydarian Toymaker – Whimsical toys and trinkets are available from Zabaka the Toymaker. Her silhouette can even be seen in the outpost as you browse.
Book Now to Visit Star Wars: Galaxy's Edge
You're never penalized for booking your vacation early with Get Away Today, and you'll always get the best price! When you combine theme park tickets and an Anaheim hotel, you can enjoy exclusive Get Away Today benefits including complimentary breakfast, free parking, theme park transportation and more. Plus, these savings can be combined with my promo code, Athleisure10, for an additional $10 off. Book online at www.getawaytoday.com or call 855-GET-AWAY for personalized assistance. Let them know This Athleisure Life sent you!