This review is sponsored in which we were given two nights complimentary for my honest review. All opinions are my own.
If you are headed to San Diego look no further for where to rest your head. Hotel Z in Gaslamp District is the hotel whether traveling alone, with family or your pup, yes it's dog friendly!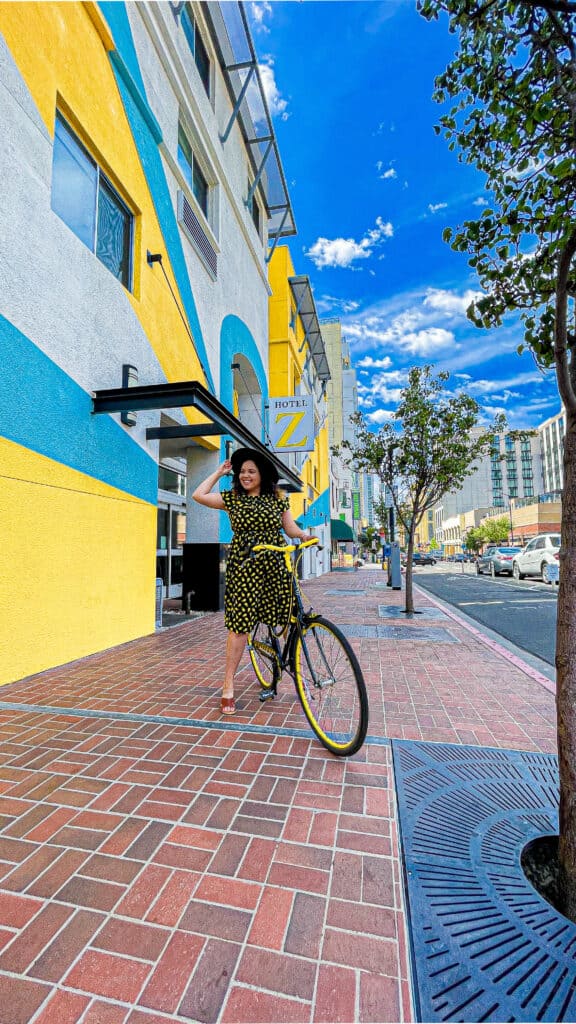 San Diego has always been a special place for K and I. for the first few years of us dating we celebrated every anniversary with a weekend in San Diego. So it seemed fitting for our first trip away from home with the kids was here. This was our first time staying smack dam in the middle of downtown. The location of the hotel was perfect because you were steps away from some of the best restaurants and coffee shops. But like any downtown area there a few things to keep in mind which I will share in just a moment. First let get into the details for Hotel Z!
Location
Like I mentioned above the location could not be more perfect! Hotel Z is location in Gaslamp District the heart of San Diego right next to the Petco Arena! Here you are surrounded by restaurants, coffee shops bars you name it. There is also a CVS on the same block so perfect in case you forget any of your essential traveling items.
Hotel Z address:
521 Sixth Avenue
San Diego, CA, 92101
(619) 330-6401
Parking
With any downtown area parking is always a challenge. Thankfully the employees at the front desk were incredibly helpful. When you arrive there is an area you can park your car momentarily, long enough to unload and check in so you don't have to walk with your luggage. Once you are checked in and bags are secure in your room you'll need to drive your car around the block to a public parking structure. Keep in mind this structure requires payment upon entry and when you exit and they only accept cash. For us it was about $30 a day but I believe there was a sporting event happening so that could change but I would prepare just in case.
Parking address: Market at 614 Market St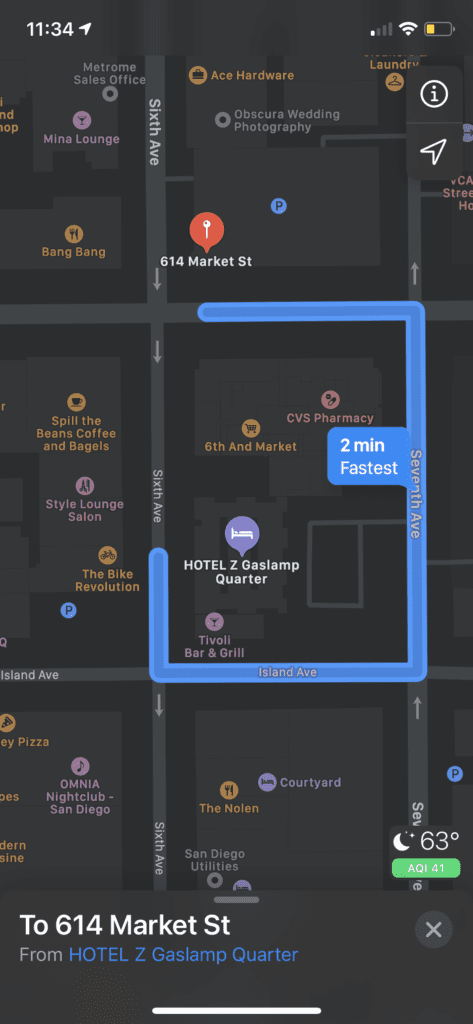 Amenities
Hotel Z has a few great amenities that can make your stay fun and relaxing.
Bike and helmet rentals to take around downtown
Enjoy a $10 daily Eat + Drink credit from the Pineapple Quick Bites & Bevvies cooler
In Room coffee, tea and water bottles
Pineapple Sugar Cookies
The most comfortable robes you will ever wear
Double Duvets so you don't have to share
WiFi
Filtered water station
Dog Friendly
Not to mention the staff is incredibly kind and attentive. With two toddlers we required a few extra things and they were great about bringing up everything we needed without hesitation. They never made us feel like we were being an inconvenience and always willing to help.
Attention To Detail
One thing I enjoyed about this hotel was its theming. They really stick with the pineapple theme in a tasteful way. Everything from the robes, to the pillows and the Keurig cups had a pineapple logo on it. Even the soap, lotion, shampoo and conditioner were pineapple scented which I loved. The boys had so much fun finding all of the pineapples and can't stop talking about the Pineapple hotel.
Rooms
We stayed in a Z King Suite with a king size bed and sofa bed. The room came equipped with a desk, microwave and mini fridge which was perfect for leftovers. It was plenty of space for the four us and allowed the boys room to play around and get their wiggles out. The only con I would say is with two toddlers and two adults who require electronics, snacks and some extra space we could have used a bit more surface space. we ended up filling the desk quickly and used the top of the fridge and microwave to help store some of our stuff. But it wasn't anything we couldn't manage.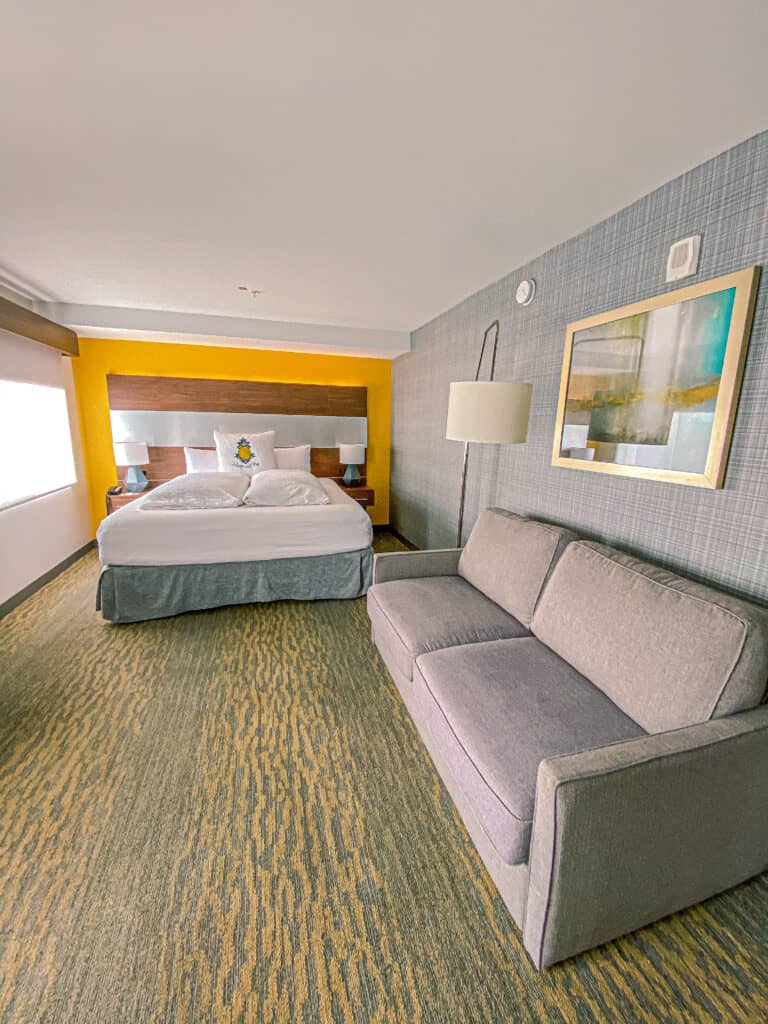 Overall Thoughts
Coming into San Diego into a new Hotel and staying in a new to us area was a bit challenging. But once we figured out everything out like parking I have nothing but positive things to say about Hotel Z.
Do keep in mind being in the middle of Downtown means there is chance of noise from the busy street especially if you get a city facing room. But It's nothing a little white noise can't fix.
I highly recommend stay at Hotel Z during your next visit to San Diego. You feel relaxed and refreshed after just one night of sleep on the most comfortable bed ever and you'll want to come back because the customer service is that good.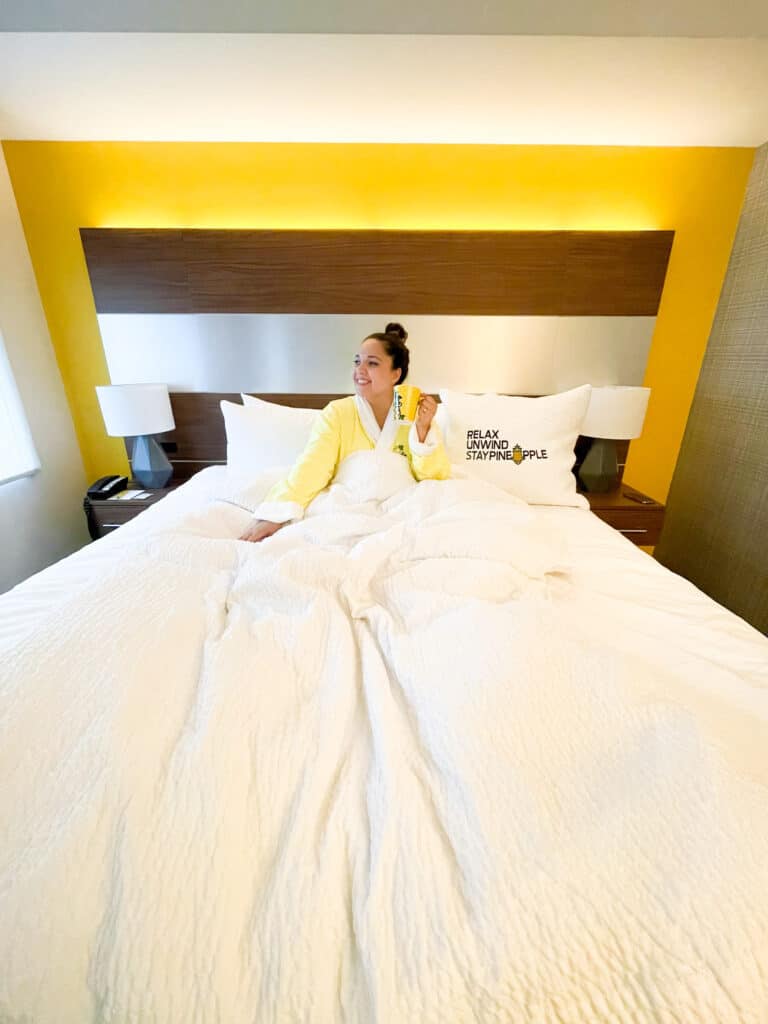 I hope you enjoyed my review of Stay Pineapple Hotel Z in San Diego, CA. You can check out their website here to book your stay!