Picking up where I last left off – a full account of our first Disney World Vacation!
Read the First part Here: Part 1
We love a good Disney World Vacation. After all, we're a Disney family through & through. I grew up frequenting the Disneyland park with my family! While my spouse grew up with annual Walt Disney World vacations with her family. Kalie and I even met while working at Disneyland. There's a magic about any Disney park/experience that just can't be duplicated anywhere else, and it keeps us coming back. For me, Walt Disney World is by far my favorite place! As it completely consumes you as the Guest and keeps the real world at bay. So today I am sharing with you part two on how we are planning the ultimate Disney World Vacation.
Day 4: Hollywood Studios & all the food
We got breakfast at our hotel before heading out. At the time, the hotel we stayed at was undergoing significant improvements and they had a temporary dining location available. The cast members made the absolute most of it and the whole experience was like a celebration! Only with Mickey waffles.
Hollywood studios had more live-show attractions then I expected! We got to watch Beauty and the Beast, Little Mermaid, and even the Indiana Jones stunt show. Rockin' Roller coaster did a number on my vertigo but was 10000% worth it.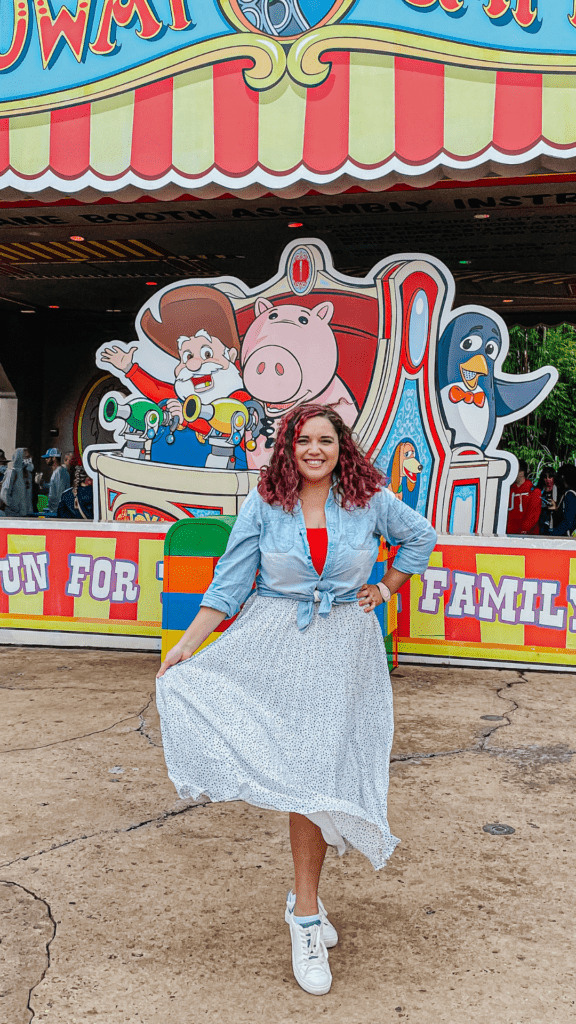 A Blast From The Past
I think my favorite part of the park was the 50's Prime Time Cafe where we stopped for lunch! This will certainly be our go-to for all Walt Disney World vacations in the future. Walking in, the lobby area looks like your grandmother's living room likely looked 60 years ago. The retro and homey decor is flawless and everywhere, and completed by all the staff calling you "cousin". Everyone is family and treated like it! The whole dining area looks like your sitting in a mid-century kitchen, with small turn-dial TV's scattered around playing shows like "I Love Lucy", but the ambiance is loud and lively just like your eating at home with family.
Keep Your Elbows Off The Table
Your waiter might lecture you for not eating your vegetables/not saying "please"/elbows on the table…you get it. There was even a grown man from another table sentenced to go stand in a corner by his waiter at some point. I don't think we stopped laughing throughout the experience. We left STUFFED with classic home-cooking and peanut butter and jelly milkshakes.
We completed the park in the early afternoon and headed back to our hotel to change for a fancy dinner at Artist's Point in the Wilderness Lodge Resort. This was our anniversary dinner, so it was made all the better by taking the ferry from the Magic Kingdom to the resort. The meal there was absolutely outstanding and one I reference on a regular basis to anyone who will listen. It has also been upgraded to a Character dining location with Snow White and the Seven Dwarfs since. So I guess it's time to plan another Walt Disney World Vacation.

Wrap-Up:
Food, sarcasm and 50's style food, more food.
Lesson:
There's a lot coming to Hollywood Studios (Toy Story land has since opened, Star wars land coming later 2019…). But we certainly could have used this as a park-hop day. By no means does that mean this is a park to miss out on!

Day 5: Animal Kingdom & the real-life banshee ride

We didn't have a breakfast reservation, because we had assumed we would get some "quick food." ( i.e. use our snack credit from the dining plan) upon our entry at Hollywood studios. This quickly turned into hanger, episode 2, as a pastry doesn't quite cut it on a trip. Especially when you're up early and to bed late filled with non-stop walking in between. But that's hardly the main content of this day, so I digress…
This park was K's favorite. If I could take them to a zoo every weekend they would be happy, and this is basically the ultimate zoo. We went down a walking trail where we saw tons of animals up close and on the coveted Kilimanjaro Safari ride. The Lion King musical far exceeded my expectations. We had lunch at the Yak & Yeti, which was added to our lists of future must-dos. And then we stopped into Pandora.
Pandora
If you haven't watched the movie – you absolutely have to before visiting! (Trust me it will make the experience all that much more magical). Walking into the land is like walking straight into the movie. They got every detail, and they got it right. We weren't able to go on the river ride on this trip, but we did have fast passes for the Flight of the Banshee. Which, by the way, is now my favorite ride of all time.
In classic Disney-Fashion, the queue is taken advantage of to build the story up for you. The various phases of narration leading up the moment you board the attraction explain the immersive experience. You're going to be connected to your very own avatar and partake in riding a banshee. (It's a big deal in the movie, ok?). You then sit on what I can only describe as a bike that sits in front of a screen and wonder what on earth is about to happen. And in no time at all, I was so convinced I was riding an actual Banshee! That I *actually* had to stop myself in the midst of patting the bike's side when my banshee was panting after a sprint-flight.
I'd like to take a quick moment to assure you that I am sane and stable! this was just Disney Imagineering at its finest.
After that, we hopped over to the Polynesian for dinner. This time to check out the Kona Cafe and watch the spectacle of lights from the beach. Does it get any more perfect than that?

Wrap-Up:

The Animal Kingdom was incredible and could easily be a two (or more) day park. There was so much to do and see outside of the traditional "rides"! The addition of Pandora took it to a whole new Disney-level.
Lesson:

Plan breakfast always. But besides that, this was a particularly hot day of our trip. We were advised at lunch that instead of the desert that came with our dining plan, we could substitute a frozen drink to-go! which made the day all the better.
Day 6: EPCOT

We made sure to get to EPCOT by Park opening to avoid the morning rush. Once we got through it all we had some time to burn before our breakfast reservation at Chip and Dale's Garden Grill (which, omg, cinnamon rolls.) so we stopped into "The Seas with Nemo and Friends" and essentially had the mini-aquarium to ourselves to wander through and walked right on the Nemo attraction. We also watched "The Circle of Life" (yes, all before breakfast) in the area called the Land, and I definitely cried at an environmental video with dated animation. This attraction is now being renovated to something newer, but the message will never leave me (*sips from reusable water bottle*).
World Showcase
We hit most of Future World first and then moved onto the world showcase where my lovely wife insisted on talking in the accent of most areas we visited (this meant just saying "hockey" and "Sorry" at the Canada pavilion). If you haven't been to EPCOT before, the park's World Showcase is comprised of various pavilions that represent various countries. Each of these areas is like walking right through a spritz of that community's culture and history. Disney even seeks to place Cast Members who are from these home countries to staff each location.
We found at least one experience in every pavilion and made a game of walking the full circle between stops just to absorb every last bit of the park. Neither of us was expecting the Frozen attraction in the Norway pavilion to be anything particularly noteworthy! Just because we expected it to be fully intended for young kids, but we couldn't have been more wrong.
We closed out the day with dinner in France! timed once again perfectly to the nighttime entertainment for which we had a window seat to view from the comfort away from the crowds. Then final attraction fo the trip was Mission: Space, which I did ultimately bail on. There's something about an attraction that allows you to choose the full experience or a more moderate version, and then also provides multiple opportunities to excuse yourself from the queue that I just couldn't brave-up for. K, however, did go on it (as they had several times prior growing up) and insisted that they might have actually gone to space.
Wrap-Up:

EPCOT was by far my favorite park! I think I could do this park every day for a week and never get bored. The World Showcase offers so many different experiences and dining options! The amount of food they offer is really what keeps me going back.
Lesson:

Definitely hit Future World portion of the park first and early. It was incredible to wander around and have so much of the park to ourselves. This should also, at the very least, always be a full-day park. I'm glad that we had booked our dining reservations all within the park on this day, because I wouldn't have wanted to leave.

Day 7: Going Home; 1st WDW vacation Wrap-Up and Lessons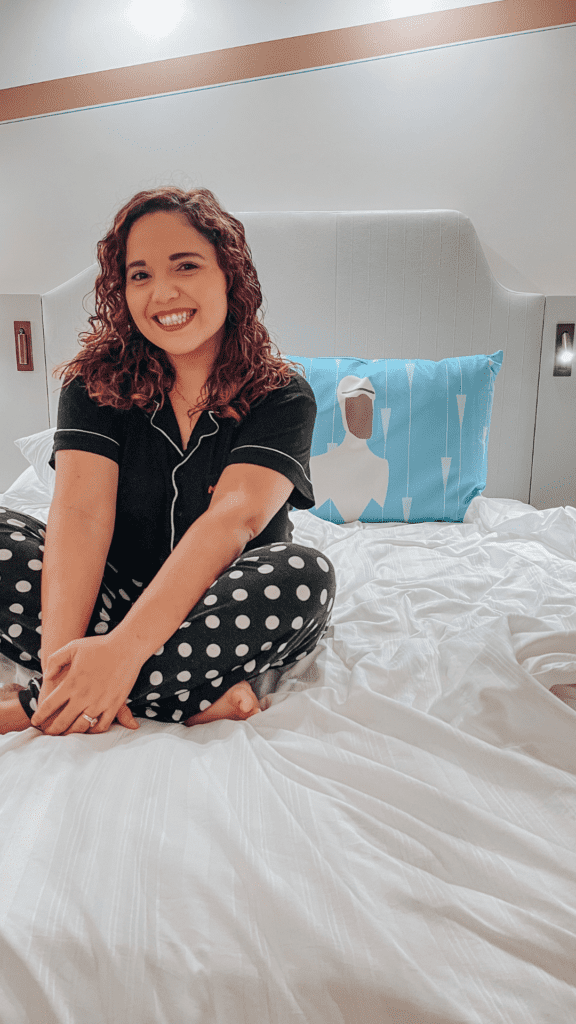 We wrapped up our Disney World vacation with one last Disney Breakfast- this time at the Grand Floridian. I realized that I wished we had dedicated a little more time to exploring the various resorts, because they seemed to be as much of an attraction as anything else. We also learned that we could "cash-out" remaining dining credits for packaged snacks. This wasn't the best use of our dining plan in terms of maximizing it, but it was awesome that we had the opportunity to still make use of every last credit we had. We took the Magical Express back to the airport, and where back to reality to head home. Although, there is always something nice about coming home to your own bed, not to mention our puppies who we had never been away from for this long.
All and all it was an incredible trip, and it was the best Disney World Vacation anyone could ask.