"This post contains affiliate links, which means I receive a small commission, at no extra cost to you, if you make a purchase using this link."
Mother's Day is just around the corner and we all want to make sure we make the moms in our lives feel special. Today I am sharing with you The Ultimate Mother's Day Gift Guide For Stay At Home Moms. This guide can most definitely be used for every mom whether she works from home, works outside of the home or stays at home.
But I personally am a Stay at home mom so I decided to create a guide based on things I know would not only help me but things I'd actually want for myself and things I know the mom in your life would want as well.
Pin For Later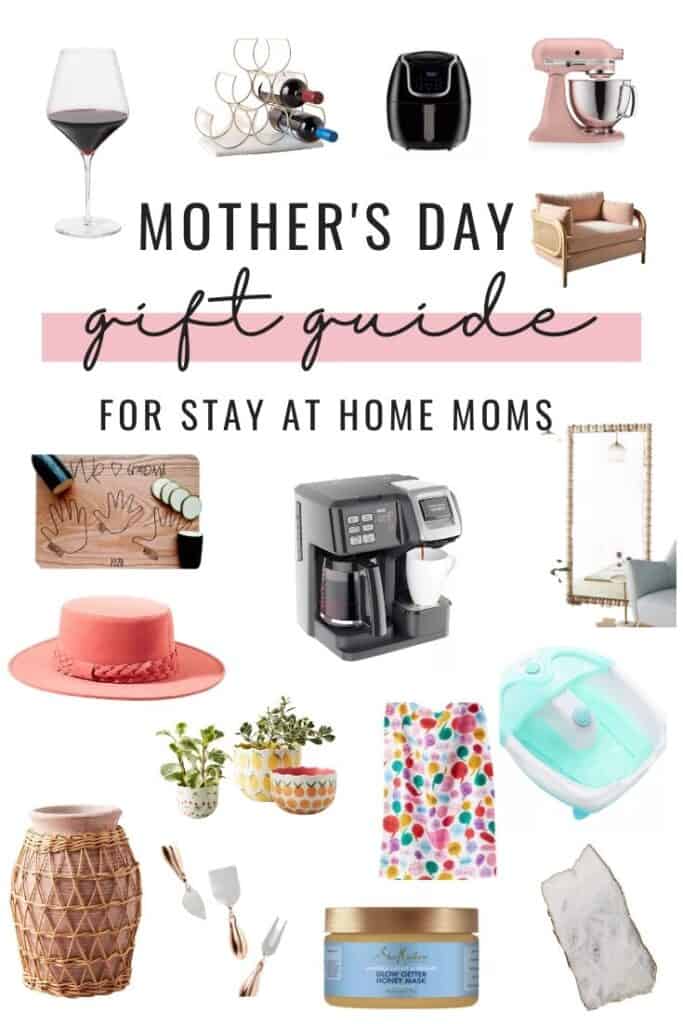 Jump To Guides:
Affordable Gift Ideas For Stay At Home Moms
High End Gift Ideas For Stay At Home Moms
I will be sharing these items in two sections. The top section will be the more affordable, everyday things we can find at our local stores…okay okay local Target. The second part will be on the higher end from shops I wish I could shop from but loved items from and hope to get one day.
I believe it is important to indulge a little and treat ourselves every now and then and what better time to do it than a holiday that celebrates the person who birthed your child, stays home to keep them safe and alive or works their butt off to create a life for them beyond their wilders dreams.
The Ultimate Mother's Day Gift Guide For Stay at Home Moms
Affordable Gift Ideas For Stay At Home Moms
Sonia Kashuk™ Microneedle Facial Roller – Nothing beats skincare. We all know for moms who stay home all day any little chance at a spa feeling is the best.
SheaMoisture Manuka Honey & Yogurt Glow Getter Honey Mask – I love everything SheaMoisture puts out and this is no exception. The perfect addition to her skincare routine.
Sonia Kashuk™ Rose Quartz Roller – Another good one for her skincare routine. These rollers are amazing and perfect to reduce inflammation in the face.
Best Person Ever Color Splash Mug – Cute mugs are a must have to make mornings a lot easier. Get her this mug to remind her she's the best person ever and to fit the amount of coffee she will need.
Striped Woven Robe – A nice comfy and cozy robe perfect for those early mornings or late night movie nights.
Glass Traditional Red Wine Glasses – Is it weird to have a dream wine glass? This one would be mine. It's beautiful and holds enough for those nights she just needs one to wind down and watch her shows.
Affordable Gift Ideas For Stay At Home Moms
Best Mom Slippers – These soft slippers are perfect for getting cozy around the house. I love soft socks and slippers so these would be perfect for mom.
Faux Fur Throw Blanket – Okay, so cozy is the theme here but for good reason. There is nothing I love more than to cozy up on my couch with a blanket and a snack.
Foot Bath with Bubbles & Heat – If we can't go to a spa bring the spa to mom. This foot bath is amazing to get some nice spa time after a long day handling the house and kids.
Trio Coffee Maker – I think it's law that if you are a stay at home mom you have to drink coffee. I don't make the rules. But in all seriousness, this machine is epic for those long mornings we need that extra strong cup of coffee.
Custom Star Map – She will love this custom made star map. Custom made gifts are a must for moms and she will love this one.
Two Moms Mother's Day Card – As a gay mom it's sometimes hard to find cards or gifts to give to a two mom family. Thankfully Etsy has some beautiful custom made cards for the mom or two moms in your life.
Affordable Gift Ideas For Stay At Home Moms
Foster Mama Coffee Mug – As a foster mom having to find any type of gift is hard. Etsy has some amazing custom made mugs to give to the foster mom in your life.
Personalized Wall Art – You can turn this wall art into a beautiful portrait of mom and the kids. Especially if she is foster mom a picture from the back with the kids is perfect.
Custom made cutting board – This cutting board is super cute and perfect for the mom in your life. The kiddos can make some art and have it added to the cutting board as a design. Perfect way to keep their art without actually keeping it.
PowerXL Vortex Air Fryer – I am obsessed with my air fryer. It has saved me a lot of times (and calories). It's easy to use and makes dinner time a breeze.
High End Gift Ideas For Stay At Home Moms
Mom Dish Towel – This towel is gorgeous and almost too pretty to use. It'll be the perfect statement piece for your kitchen.
Mom Dish Towel 2.0 – How many ways can your kid say "mom"? This dish towel will have them saying mom in every way.
Agate Cheese Board – Can you imagine hosting a party with this beautiful cheese board as the centerpiece? The mom in your life would love this more than anything I can guarantee it.
Dacia Cheese Knives – You can't have a beautiful cheese board without cheese knives. These are absolutely beautiful and would complete the look. She can wow her guest with this set up and along with the wine glasses I shared earlier.
Marble Wine Rack – This marble wine rack is perfect to have in your kitchen, wine cellar or patio. She will love this way to display her favorite wine to show off in her home.
Hudson Floor Mirror – Look at this gorgeous floor mirror. She will love getting ready and checking herself out in this, I know I would. It's beautiful and versatile and can go with just about anything.
High End Gift Ideas For Stay At Home Moms
Tutti Pot – These are perfect for a simple but beautiful way to add some greenery to her home. Perfect for the office, bedroom or on the coffee table.
Willow Decorative Vase – This Vase is gorgeous and the perfect accent to any house decor.
Heatherfield Chair – I'll admit, this chair is a bit on the pricier side but oh man is it a beaut. Make this her reading chair, working chair or chair she sits in to relax before a day of chaos.
Ashton Trimmed Boater – This hat is for all the stylish moms out there. This hat is gorgeous and the Pink would go with just about anything. Make this her new favorite statement piece.
KitchenAid Stand Mixer – As a baker I LOVE my KitchenAid mixer. It has helped me create a lot of dessert and savory dishes for my family over the years plus they last forever.
The Ultimate Mother's Day Gift Guide For Stay at Home Moms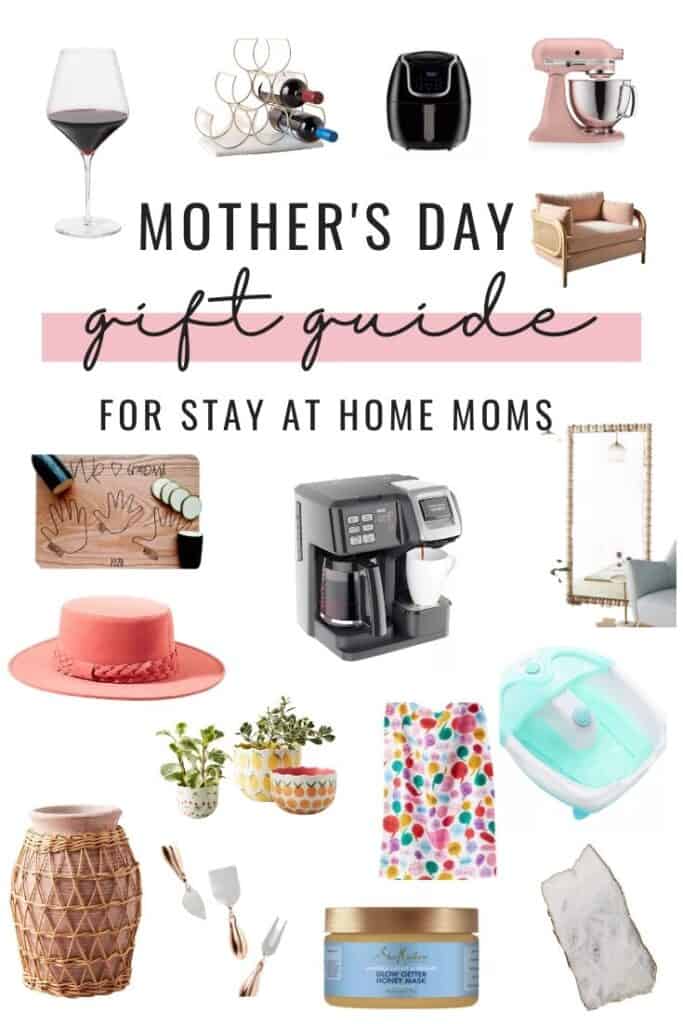 There you have it folks to the ultimate Mother's Day Gift Guide For Stay at Home moms. These gifts are, in my opinion, everything a stay at home mom needs to survive. She deserves everything she wants and more for being the best mom in the world.
Related: 13 Ways For Stay At home Moms To Get Alone Time
Happy Mother's Day!