I personally have been loving phase 4. With all of the shows and new movies coming out now is the time to be a Marvel fan. I had the chance to screen Thor Love & Thunder in IMAX before its release and let me tell you I have thoughts! This review will be spoiler free so keep on reading.
A huge thank you to Marvel and IMAX for the invite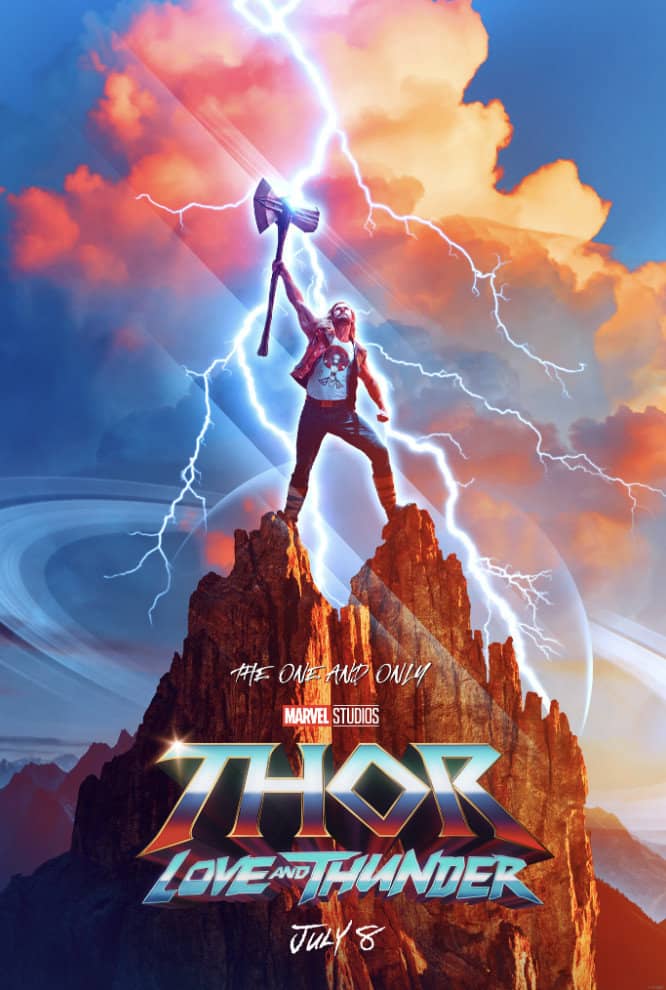 What is Thor: Love & Thunder about?
Synopsis: The film finds Thor (Chris Hemsworth) on a journey unlike anything he's ever faced – a quest for inner peace. But his retirement is interrupted by a galactic killer known as Gorr the God Butcher (Christian Bale), who seeks the extinction of the gods. To combat the threat, Thor enlists the help of King Valkyrie (Tessa Thompson), Korg (Taika Waititi) and ex-girlfriend Jane Foster (Natalie Portman), who – to Thor's surprise – inexplicably wields his magical hammer, Mjolnir, as the Mighty Thor. Together, they embark upon a harrowing cosmic adventure to uncover the mystery of the God Butcher's vengeance and stop him before it's too late. Directed by Waititi ("Thor: Ragnarok," "Jojo Rabbit") and produced by Kevin Feige and Brad Winderbaum, "Thor: Love and Thunder" opens in theaters July 8, 2022.
My Thoughts on Thor: Love & Thunder?
I have a lot of thoughts about this movie especially since I have had some time to digest it and really think about what I wanted to say. I will break this up into a few parts to make sure I get it all down.

Let's get into it.
My Initial Thoughts
I LOVED this movie! I after the final end credits rolled up I looked at my spouse and we both were shocked jaws to the ground. We wanted to run it again because we just could not get enough of it. It was the perfect mix of chaotic, hilarious, emotional and that Marvel feel we all know and love. It is definitely what you would expect from Taika Waititi film and I could not get enough of it. There was so much to this movie that I absolutely loved but I also have some thoughts on what could have been better.
Jane & Thor
Seeing them together on screen again was amazing. Seeing Jane as the Mighty Thor gave me all the feels and made me want to cheer her on. She portrayed everything Thor is while adding her own personality to her. Thanks to Korg's amazing storytelling we also learn more about what happened during their relationship.
Valkyrie
Valkyrie in a suit as King…yes please! I LOVED her in this and loved how she took on the role of being King so beautifully. She is such a bada** in this film and I really wish we had more of her. I really wanted them to expand more on her queerness because I remember hearing that this movie would be her quest to find a queen but we didn't get that. She still was amazing and she really deserves her own show!
LGBTQ+ Representation
As a queer person and content creator I was excited when I heard this movie would be "gayer" than most Marvel films. Which, in hindsight is true. There isn't much LGBTQ+ representation in many of the Marvel films so the few scenes and talk we get here is technically more then the others. But with a queer character I would have hoped there was a bit more. There is so much potential to expanding on queer stories especially with this new phase that I wish they just went full force with it. I have hope that Marvel won't silence or dim down these stories because people like me would love to continue to see these stories on the big screen.
Darker Moments
This movie is definitely a lot of fun and chaotic but there are plenty of dark moments that may be disturbing for some people. Gorr the God Butcher is no joke, he looks scary and his tactics are even worse. As a parent some of the scenes were hard to watch. This movie has some parts where kids are locked in a cage and have to engage in battle.
Marvel has once again proven that they can add humanity to even the most far fetched of comic book villains by giving them back stories that appeal to human nature and make their story feel logical even in a world of fantasy.
My Ranking in the MCU
Okay, so here it is! My phase 4 ranking of Thor: Love & Thunder in the MCU, yes this includes the shows.
WandaVision
Dr. Strange in the Multiverse of Madness
Thor: Love & Thunder
Loki
Hawkeye
Spider-Man: No Way Home
Shang-Chi the Legend of the Ten Rings
Black Widow
Ms. Marvel
Eternals
Captain America and the Winter Soldier
Moonknight
What If…?
I really hope you get a chance to check out Thor: Love and Thunder! This movie is everything and more and personally exactly what we needed in Phase 4.