This post contains affiliate links, which means I receive a small commission, at no extra cost to you, if you make a purchase using this link. Please see my disclosure for more details.
The Ultimate Drive-in Movie Experience With kids
When the summer of 2020 hit we were stuck on what to do outside the house to enjoy our summer while also being safe. I remember growing up drive in movies used to be a big deal. But as an adult I haven't been to one in years. So K and I went online and researched the best places to experience drive in movies in our area. to our surprise we found that not many places were offering a drive in movie experience.
It was definitely a missed opportunity since a lot of people were looking for things to do outside safely. As we continued looking slowly but surely it seemed like Drive in Movie experiences making a comeback. Seems like whoever was in charge was getting the hint quickly.
Even though it is a new year things are still looking the same and social distancing is still required. So Drive in movies, thankfully, aren't going anywhere.
So, Today I am sharing with you tips for the best drive in movie experience with kids.
Related: 45 Things To Do When you Are Bored
What Is a Drive In Movie?
A Drive in movie is an outdoor movie experience. It is usually hosted on a huge lot or parking lot that could accommodate a lot of cars. You can stay in your car or came right outside of it. Depending in the rules of the lot. You can take your own food, blankets and non-alcoholic drinks. You listen to the movie through your car or radio. I will share below what I suggest for the best experience.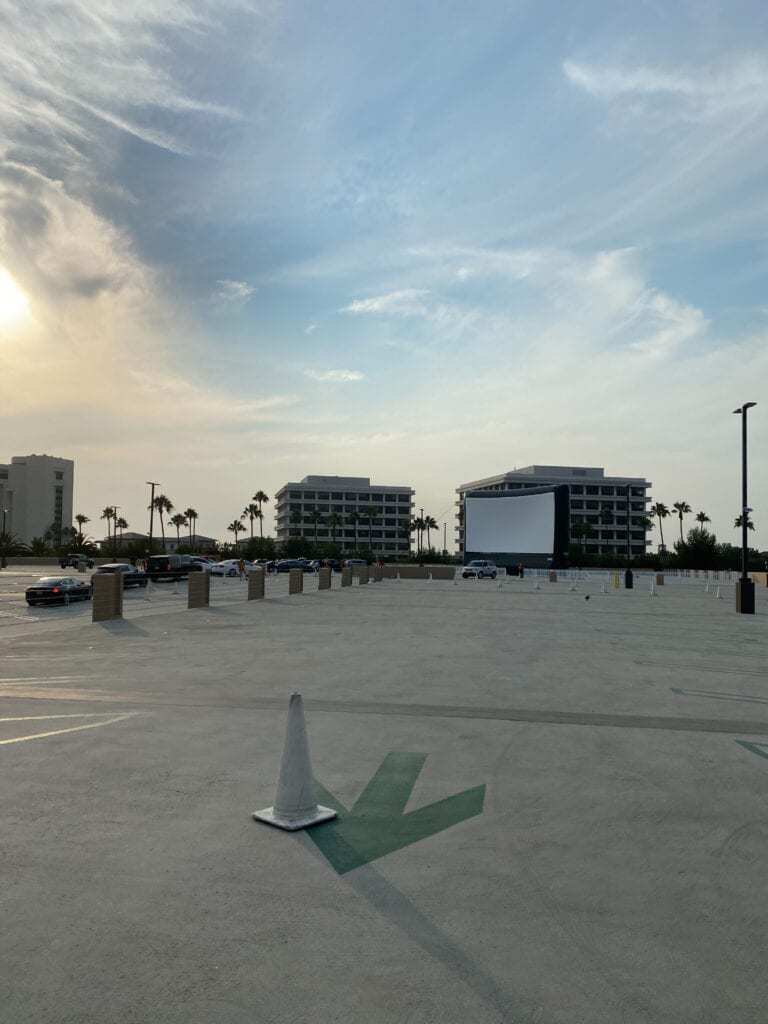 What Should I bring?
We like to go as soon as the gates open to give us time to park, eat and enjoy each other's company until the movie starts. Based on my experience the gates usually open 2 hours prior to the movie, which starts at sundown. Here is a list of all the things I suggest to take to a Drive in movie with your kids. These things will keep them occupied while waiting in the car. These will also help make the experience a lot more comfortable for everyone during the movie.
For The Kids
These are perfect for the kiddos especially if you head to the drive in early like we do. This will keep them occupied for a bit and not ask you a million times what time the movie starts.
2. Books
Our kids love it when we read to them so we bring a small book or two to read to them.
3. Tablets
MY kids are obsessed with the Amazon Fire Tablet. The time tends to go by a lot quicker when these are in the car with us.
What To Pack For The Ultimate Drive in Movie Experience
Blankets are definitely a must during a Drive in Movie. Summer nights can be a bit chilly especially if you are outside for a long period of time. You can also use these to set up your trunk as a cozy way for your kids to snuggle enjoy their movie.
2. Chairs
If your Drive in Movie lot allows, taking a folding chair can be perfect for the adults. While the kids lay in the trunk you and your spouse can sit on the outside of it in your chair. We find this to be a lot more comfortable and the kids love having the trunk to themselves.
3. Dinner and Snacks
before we head to the drive in Movie we stop by our favorite restaurant and order take out. This way we save money and we don't feel we have to buy everything at the concession stand. Snacks will also keep the kiddos occupied before the movie starts.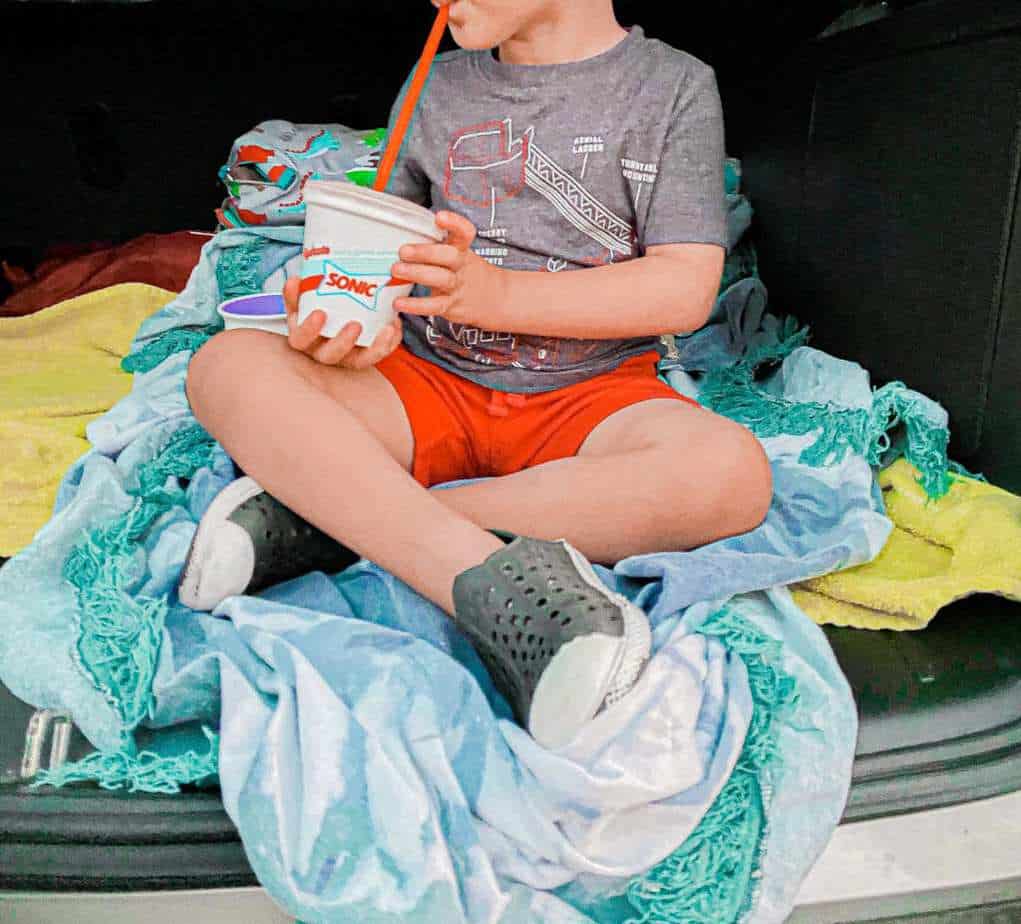 4. Money for Concessions
You can't go to a movie and not buy popcorn and candy. So make sure to take enough money to buy some special treats.
5. Bug Spray
If you plan on sitting outside or have the windows/ trunk open, bug spray is so important especially during summer nights.
We have a small cooler where we put our snacks and drinks in. if you have a bigger family a bigger cooler might work best for you. Don't forget Ice blocks to keep your drinks cold.
7. Disposable Plates, cups and napkins
To make things easier and less messy taking portable plates and utensils will make it so much easier for clean up after the movie.
This is a must for the best Drive in Movie experience. I would highly suggest using a portable radio as opposed to using your car radio. Your car can lose battery and I've also experienced that when people leave their car on to use their radio it's hard for them to turn off of their headlights and that can get in the way of enjoying the movie. Don't forget batteries for your radio!
9. Sweaters, yoga pants and warm clothes
You'll be sitting outside for a bit so make sure to bundle up yourself and especially your kids.
10. Plastic bags for Trash
Please be courteous and clean up after yourself. Don't leave trash around the lot and this will make it easier to avoid trash in your car.
11. Be Courteous!
This should go without saying but please be kind to the employees. If something goes wrong it is not their fault. Please check the site of your local drive in movie provider for the latest rules and regulations. If they ask you to wear a mask please wear a mask. If they require social distancing please do so. That way they can continue to provide this amazing experience for everyone to enjoy safely.
Where can I find my local drive in movie experience?
If you live in Orange County there are a few places you can visit that offer drive in movie experiences.
Tiki Mission Drive in Theater – Montclair, CA
This location shows double features. So depending on the movie an age of your kids maybe taking an extra pillow or two just in case the night runs long. This is where the tablet can come in hand as well if they aren't into on of the movies or if it's not appropriate for them.
2. Starlight Movie Night – Irvine, CA & Westminster, CA
The one on Irvine hosts it at the Irvine Spectrum. This one is the best location in my opinion because you are surrounded by so many restaurants to choose from.
I am sure there are more places but these are the two that we like to keep our eyes on just in case a movie we know the kids will enjoy is on.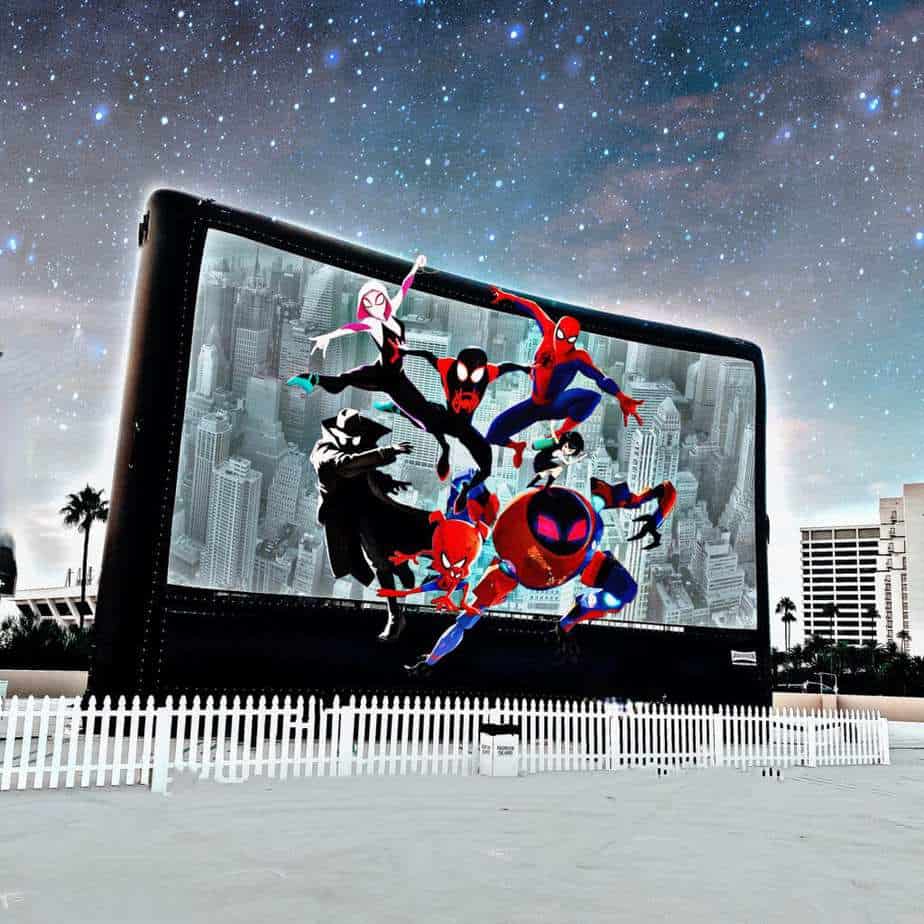 The Last Thing You Need to Know about Having The Best Drive In Experience
Have fun! This is a way to have some fun with your family and create some memories. I know that things are still weird and we don't know when all of this will be over but it is important to learn how to get creative and find new and safe ways to enjoy time with our family.
Have you ever been to a Drive in Movie? Let me know in the comments!