A huge thank you to Brian's 24 for inviting us to check out their restaurant. All opinions are my own.
Where To Brunch in San Diego
If you are looking for the perfect Brunch spot in San Diego and a fun Instagram worthy place to eat look no further than Brian's 24. This perfectly remodeled restaurant will fulfill all of your IG worthy photo needs from velvet green booths, pink walls with a mural of pop culture references created by the oh so talented @hannasmurals. Grab the family or your besties and head to San Diego for the perfect place to brunch.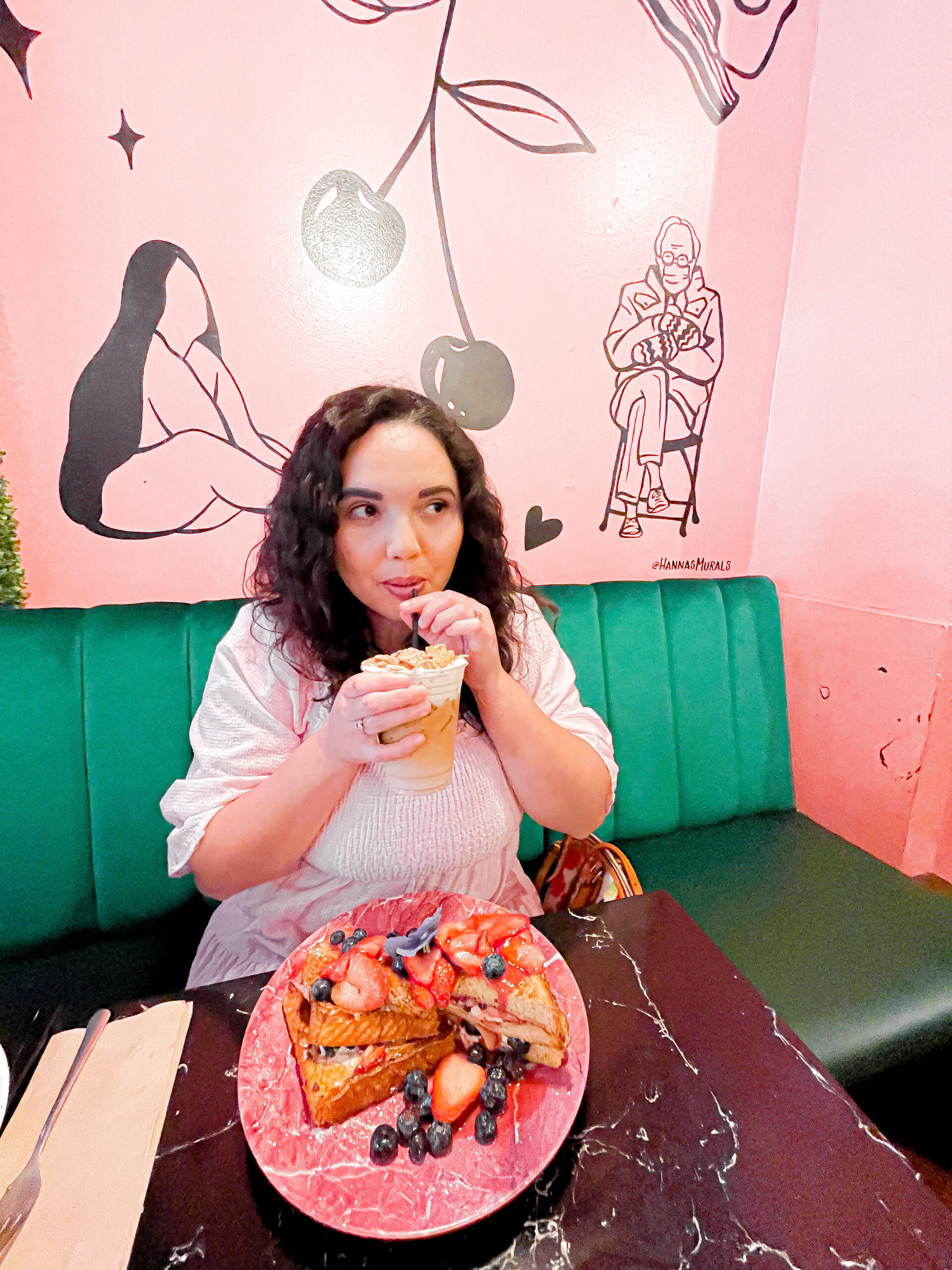 Keeping Up With Tradition
When K and I started dating we would celebrate every anniversary in San Diego. It became our go to place no matter what surrounded us in Orange County. And because we are creatures of habit we would visit the same spots every year. First we'd start off at Coronado Del Mar Beach and spend the day there while enjoying each others company. Before driving home the next day we would always have brunch at Brian's 24. Now back then the restaurant was a bit different, brick walls, no real color to it but the ambiance was still amazing and everyone so incredibly nice.
The food big in size and also in flavor was amazing and not to mention mimosas served in goblets the size of our face. Ah yes, we quickly became known as the people who always went to San Diego. So much so our friends would ask us for recommendations on where to brunch in San Diego and without question and almost in unison we'd suggest Brian's 24.
This place is more than a restaurant, it is the place where many conversations of our future were held. The place we went to on our way to pick up our first dog together, the place we always felt safe visiting as a queer couple and never once worried about who we were there.
If you plan to make a trip out of your visit to San Diego be sure to check out my review for Hotel Z. A block away from Brian's 24 so you don't have to worry about driving and enjoy all the mimosas your heart desires.
Let's Talk About The Food
When looking for where to brunch in San Diego you want to find a place who's food lives up to the hype and let me assure you, this one does.
Although the aesthetic and menu has changed the ambiance of Brian's 24 is still the same. Everyone is kind and friendly and the food although different than what I remember is memorable all on its own.
The Menu
when you arrive you will use your phone to bring up the virtual menu showing all of the amazing food and cleverly named drinks.
Some Menu Items
What the French Toast    /    $14Thick sliced French Toast topped with powdered sugar Add Banana, Strawberries, or Blueberries +3

Berry Stuffed French Toast    /    $17Take our luscious cream cheese frosting spread, slather it with strawberries and blueberries, + layer it between our decadent French toast. Consider yourself satisfied

Buttermilk Hotcakes    /    $14Perfectly fluffy + delicious and topped with our house made strawberry butter

Belgian Waffle    /    $14Simple + scrumptious. Topped with our house made strawberry butter + served with 100% maple syrup
What We Ordered:
I ordered the Stuffed Berry French toast and it is what dreams are made of and highly recommended by Taylor the manager who was the best by the way. My kids ordered the Nutella and Banana Stuffed French Toast and kids pancakes with strawberry butter. Of course I had a few bites and you can't really go wrong with Nutella. My spouse had the Tri Tips Egge Benedict and it was heavenly.
For drinks we both ordered the one of the Cereal Killer's Lattes and it was too die for ( pun highly intended). We ordered the Cinnamon Toast Crunch latte and I would make the 2 hour drive from Orange County just for that. It was perfectly sweet made with oat milk and topped with sweet cream and topped with cinnamon toast crunch cereal.
I also ordered the Bees Knees a lavender and honey infused matcha latte and it was incredibly delicious and satisfying with a subtle taste of lavender. I definitely want to go back and try their chicken and waffles and some fun adult beverages as well.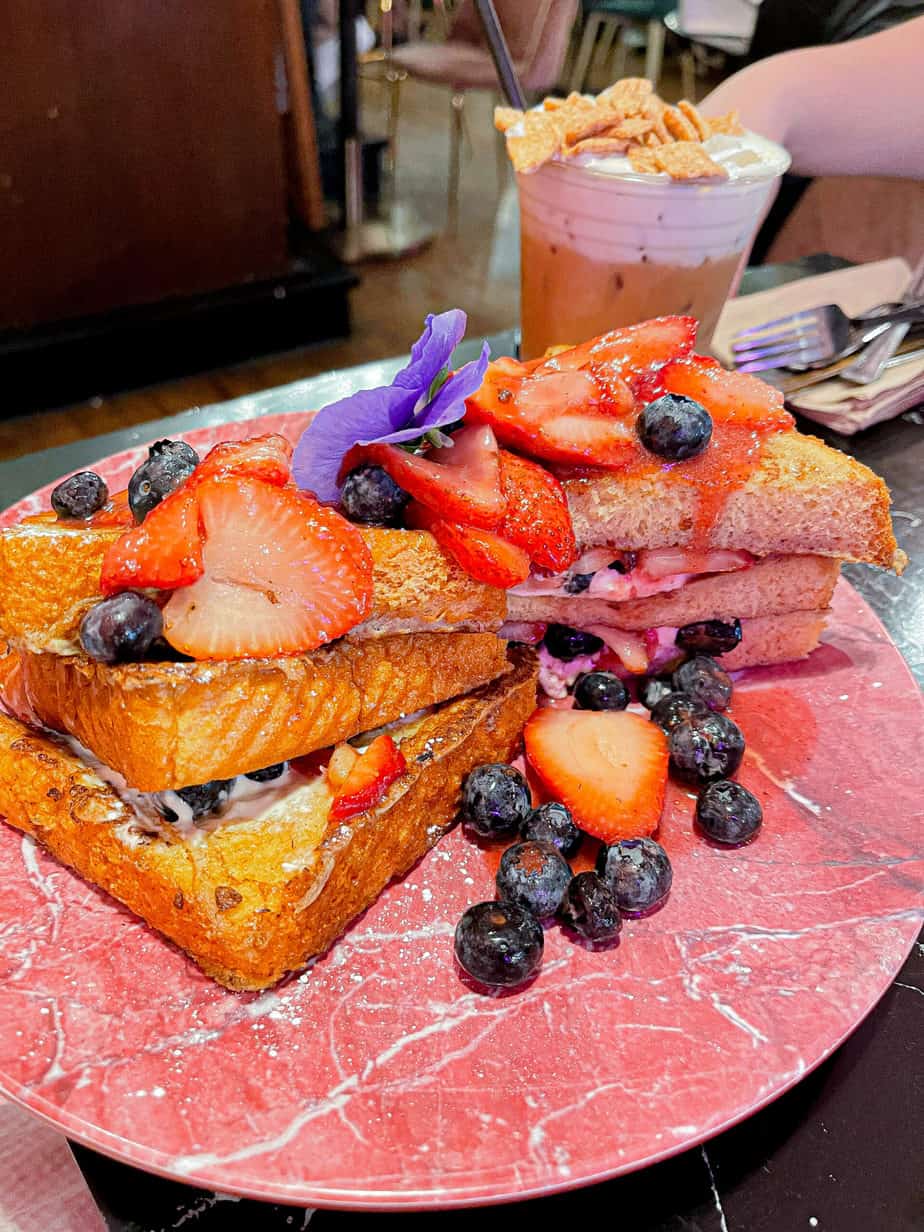 Where is Brian's 24 located?
Brian's 24 is located in the heart of Gaslamp District Downtown San Diego. The Address is: 828 Sixth Ave, San Diego, CA 92101. If you are looking for parking there is a surface lot right next to the building don't forget to pay at the station.
Final Thoughts
Overall we had a great experience! It was nice to be back to our favorite place and we loved the changes they made. It was such a surreal feeling to bring our kids to our favorite restaurant and were so glad to see they loved it as well. If you are looking for where to brunch in San Diego be sure to make Brian's 24 your top choice.